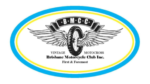 Description:
"The Brisbane Motorcycle Club a vintage and Classic motocross club​, was established in 1925 and is one of the oldest motorcycle clubs in Australia.
We welcome new members, volunteers and spectators to join us in the enjoyment and camaraderie of our shared passion.
The club has a motocross tracks at its disposal located in the inner Brisbane northern suburb of Banyo (often referred to as the Nudgee track)."
Contacts:
Steven Brequist - President (0409) 862 746
Randall Goldsworthy - President (0449) 723 327