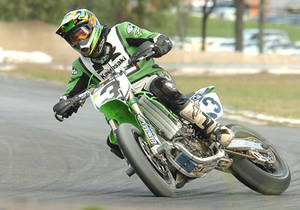 Supermoto racing combines the high speed grace of Road Racing with the action packed drama of Motocross-style dirt track racing.
Supermoto is conducted on circuits of between 800 and 1700 metres in length which consist of a bitumen section and a dirt section. The ratio of sealed surface to dirt usually varies between 70-30 and 80-20. The dirt section may also have small jumps, however is usually a smooth surface.
Supermoto races can also be conducted on Road Race tracks and the machines used are off-road dirt bikes that are fitted with road bike or Motard wheels and brakes. Usually Supermoto bikes have had their suspension lowered.
The races are short and exciting with the emphasis on heavy braking at tight corners to make for a big slide prior to the corner.