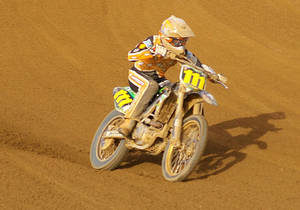 Dirt Track is similar to speedway in that its run on closed tracks that are completely flat, on a gritty shale surface.
Track racing is an exciting branch of off-road racing which is conducted on closed tracks of up to 1800m in length. The tracks are varied with left and right-hand bends. The surface can be graded dirt or grass.
All you need to get started is a Motocross bike and the appropriate riding gear. For the serious competitor a more specialised dirt track machine called a slider is used to compete.
There are different types of track racing including Dirt Track (DT) and Long Track (LT).