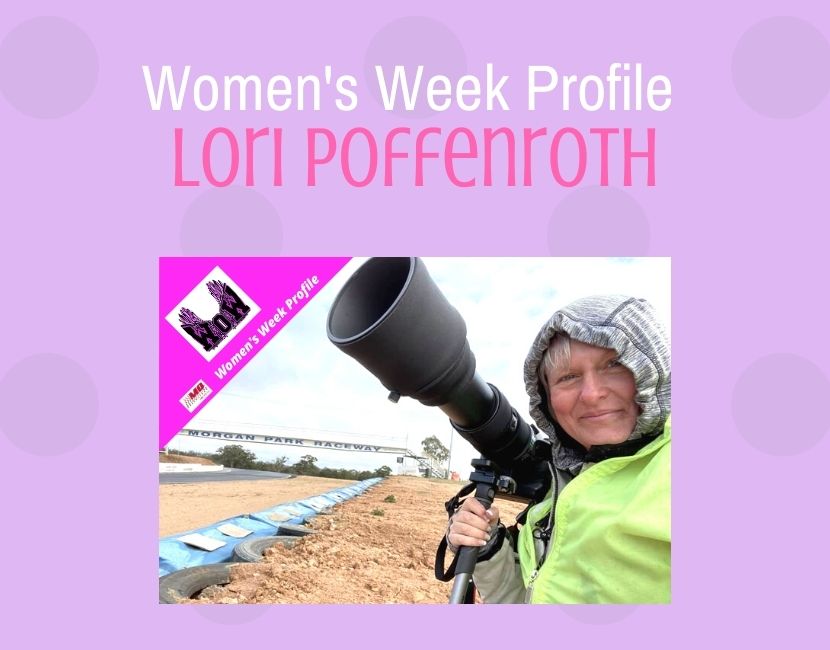 G'day. MQ is profiling some of its most inspiring women in motorcycling. We hope you enjoy this chat with road racing sharpshooter Lori, from Images Everything.
Hey Lori, how long have you been walking around racetracks with a bag of photography gear?
Well I've been a professional photographer for more than 12 years but back then I was chasing brides & babies around as well as covering horse shows, rodeos & campdrafts. I started shooting bikes in 2018 when my partner, Stewart & I were pitting for Sloan Frost and then Lachlan Epis. In 2019 I was fortunate enough to get the gig as official photographer for The Motorcycle Sportsmen of Queensland as well as Champion's Ride Days at Morgan Park Raceway.
How did you come to be doing this?
Motorsports and photography have always been in my blood. I started shooting our school's sporting events back in the late 80's so that's how that started and my dad was into speedboats so naturally, when I discovered Jet Skis, I was hooked. I started racing in the women's 550 Limited and 440 Superstock classes…long story short I ended up hitching a ride to Australia to race and I've been here ever since. I still get all warm & fuzzy when the two-strokes go past me at the track… the smell brings back fond memories.
In your current set up, you ride to the tracks with your photography gear don't you?
Yah, I ride my Triumph Tiger 800 to the track. It's great for getting around the infield of the track and I've got it kitted out with panniers & top box so I can carry all my gear safely. It's my 'work ute' lol.
What kind of riding do you do with it and what riding experiences do you enjoy the most?
I've had a number of bikes over the past few years but they were mostly sports bikes. Although they are fun, I don't fare well on longer rides so the Tiger has a much more comfortable riding position and I love touring & adventure riding the most. I do take the Tiger off road occasionally, but I have a CRF 250L that's for more tricky off-road stuff. I really love any type of riding where I can explore and long overnighters are my fave…on-road or off.
Some moto photographers have an interesting and an insightful viewpoint of the sport, and see a beauty and a poetry in the way purpose-built machines manoeuvre around a track on the ragged edge of control, that even the participants themselves often don't. What's your perspective on this, and what are the things that attract you to this sport and its people?
f/9 at 1/250 sec.! LOL I love the speed, the sound and the smell of motorbikes on track. I love trying to get those cracker shots for riders but I have to say, what really makes my heart sing is seeing riders as they improve their skills and get faster. I look at thousands of photos at each event and I can often see when riders are improving their lean angle, their body position and when they are taking smoother and more consistence lines through a turn. I often get quite excited for them and can't wait to get back to the pits and tell them.
Of course, I love all the bikes. Nothing beats the sound of a fully tuned race bike coming down the front straight. I can often tell who's coming into turn 1 when I'm out at turn 6! But the biggest thing about this sport is the people. It's like one big family and everyone is ready to help out and lend a hand to someone in need and the flaggies & officials are awesome as well. I couldn't ask for a better office to go to work at.
Please tell us about one or two of your favourite experiences as a moto photographer.
I have a lot of memorable experiences as a moto photographer…one morning I crashed my bike taking a 'shortcut' to the track after a huge rain the night before and had to get the support crew to come help dig my bike out of the mud lol but my fave moment so far is seeing Oli Bayliss debut the DesmoSport Ducati V4R at Morgan Park. Catching him and Mike Jones side by side into turn 3 was just magic!
Thanks for talking to us Lori, and Happy Women's Week!
Thank you for this opportunity!