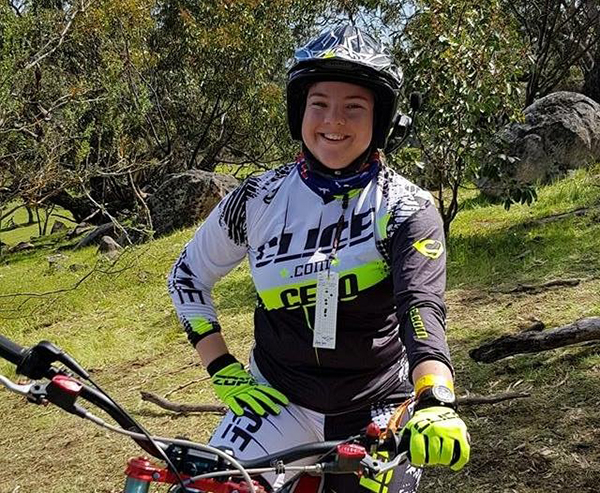 At the tender age of just 18 years, Sarah Chivers is one of the major hitters in her chosen sport of moto trials.
After finishing third in the women's class in last year's Australian Trials Championship, she represented Australia for a second time in the Trials Des Nations, joined by good mate Nicole Casey and Sofie Kraft.
Between the two of them, Chivers and Casey make Gladstone a dominant force in Aussie women's trials.

Name: Sarah Chivers 
Age: 18 
From: Gladstone, Qld. 
Discipline: Moto-Trials 
Bike: Gas Gas Racing, 250cc 
Sponsors: Myself now that I'm working and my mum and dad!  Paul Arnott from The Hell Team has also helped me out over the years. 

I ride a motorcycle because: Riding is the thing that I love! I find that it really focuses my thoughts from anything else that I have going on in my life at that moment.  It drives me to do the best that I can in all aspects of my life. 

The reason I compete aboard one is: The honour of competing and representing my county at one of the highest levels is something not many people can say they had the opportunity to do.  After competing overseas I have met some pretty great people and made some amazing friends. The terrain around the world that I've ridden on is vastly different to what I have to practise on in Central Queensland!

What I love about my bike is: That's it's a pretty competitive bike straight out of the crate and suits me/my riding style well.

My discipline of motorcycle sport is: Moto Trials, and the thing I love about it is that it is a relatively low-impact sport but you can ride up/over and down some pretty impressive things. It takes a lot of skill and practice to achieve some things in trial.

The biggest high I ever got from competition was: I don't really have one moment but two.  The first one would have to be winning the Junior women's category at the Australian titles, I was over the moon.  The second moment would have to be coming third in open women's in my first year in the category at the Australian Titles. 

My favourite track/place to compete is: I don't have a particularly favourite place, I just love riding wherever I go!

The person who taught me the most about my sport is: My dad because he's always been there to let me know what I did wrong or help me try something hard again. 

The person/people whose backing makes all the difference is/are: would have to be my family who work really hard with me getting me to all the events and making everything that I have achieved so far possible. 

Outside of my motorcycle life I: work full time as an apprentice electrician for Ergon Energy. 

People might be surprised to know that I: go bed really early!  Usually by 8:30pm or 9:00pm at the latest!

This year my goals are: To keep working as hard as I can for nationals but due to working commitments I am unable to compete internationally this year.  

The aspect of my motorcycling that I'll be focusing on most is: Everything, honing all skills but mostly stepping up a grade hopefully this year.