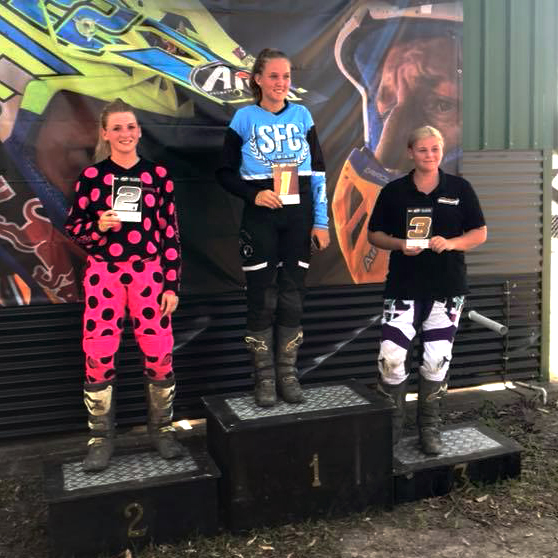 Injury is a regular part of racing, but Britney Boyce's road in the last 12 months has been a particularly tough one.
She's now two Airoh series rounds back into her return to racing after nearly 12 months off the bike, courtesy of an awkward first corner fall which left her with a fractured spine. The fact that she's currently third after podium finishes in both rounds suggests she's come back strong.

NAME: Britney Boyce
AGE: 16
FROM:  Maryborough QLD, 4650 
DISIPLINE: Motocross 
BIKE: KTM 250F 2013 
SPONSORS: Pete's Trackside Suspension, Outback Sheds and Nick Duffy's Mobile Mechanic 

I ride a motorcycle is because: I ride motorbikes because I enjoy the sport and I found the sport by driving past my local track when I was younger and found an interest in the sport.

The reason I compete aboard one is: The reason why I compete in this sport is because the sport is a fun, physical and mind challenging task and every day it sets a new task to complete. 

What I love about my bike: I love my bike because it has kept me on the race track it may have cost a lot to keep me there but it's still going for its age I also love that it is an electric start so when I either crash or stall it's easier to start.

My discipline of motorcycle sport is:  My discipline in motorcycle is motocross the reason why I love motocross is because it is full of new challenges day in day out, each and every track I race at is completely different. 

The biggest high I ever got from competition was: As a junior the highest I completed was the AJMX and placed 4th in the girls 85 cc class and now as a senior I have competed in the first round of the Airoh series and placed 3rd. 

My favourite track to compete is: My favourite track to compete at is Hervey Bay and Mundubbera, the thing I love about Hervey bay is that it is a sand track and forms nicely and always prepped properly. The thing I love about Mundubbera is that it's all natural and very hilly and flows nice.

The person who taught me the most about my sport is: The person that has taught me a lot about my sport would be my dad he has stuck by me and helped me in the past 5-6 yrs, he helps me to see things day in day out that I don't realise about the sport.

The people whose backing makes all the difference are: my parents, without them I wouldn't have been able to continue with my career in motocross. As a junior JWR (Jason Watson racing) helped me train for a few years and helped me gain the skills I have now and in the last year and a half I have been backed by Pete's Trackside Suspension a lot and he has helped me come a long way with helping me out at the track and on the line giving me the tips. 

Outside of my motorcycle life I:  I am currently studying at Maryborough State High School in year twelve. I also work during the week to help back my sporting choice and do a lot of training to prepare for motocross races. 

People might be surprised to know that I: I fractured my back at the start of 2017 and have only just started racing again this year in 2018 and was a very long recovery. 

This year my goals are:  My goals for this year are to finish in the top five of the Airoh women class and top 3 in the Women on Wheels series. This year I am also setting a goal to get top 10 at the MX nationals in the women's class. 

The aspects of my motorcycling that I'll be focusing on are: the WOW and Airoh series.

Caption: Britney Boyce (right) has made good her racing comeback after suffering a fractured spine early last year.