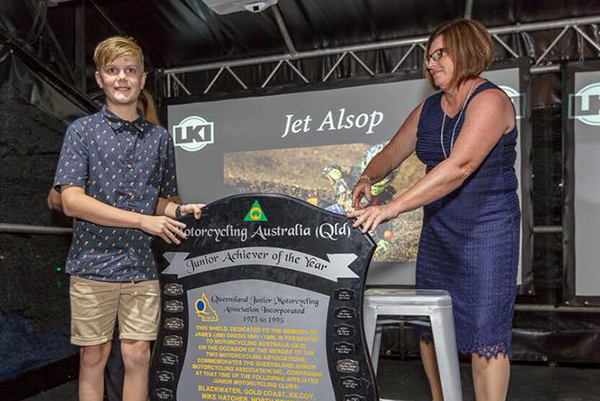 Lots of mini racer parents start off in the scoring chair, the canteen or holding a flag, but few people follow beyond the volunteer path until it gets to the MQ board and the Sport Development Subcommittee. 

Anne Polsoni's passion for the sport and willingness to contribute has drawn her down that very path. 

Her calm and thorough approach was a major rebuilding force behind the rejuvenation of the SEQ Junior MX series, and the extra perspective she brings from experience in sports outside of motorcycle racing makes her an invaluable addition to the motorcycle racing fraternity. 

Firstly Anne, how did you get to this point? What was your path into and through the sport, and ultimately, to your current gig? I have always been involved with helping with my children's sports whether it has been Netball, Rugby League, Little Athletics and of course motorcycling. My son started riding at Kilcoy club 15 years ago and it wasn't long before I was asked to lap score – my kids tell me that "no" is not part of my vocabulary. Manual lap scoring eventually moved to race secretary for club days then to the club needing a Level 3 Race secretary to run their Ironman event and a few years later decided to have a go at organising the South-East Qld Junior MX Series. The last couple of years has included the challenge of being a board member of Motorcycling Qld while still helping a few clubs out as Race Secretary. 

What specific areas of motocross excite you the most? Motocross is such a fast-paced sport in which many things can go wrong, so it leaves you on the edge of your seat (or in my case, can't sit down at all) and holding your breath until that chequered flag comes down. There is nothing better than seeing riders on the track battling and changing position in close racing and then coming off the track to congratulate each other on their racing skills. 

What part of the sport would you most like to see growth in? I would love to see more motorcycle sport televised. I think motorcycle racing is the most exciting sport to watch and don't understand why all Australian racing isn't televised. 

Just like a rider, officials experience the highs and lows of dealing with the sport and its people, only without the thrills or the prizemoney! What keeps you involved in motocross? I have made some great friends through motocross and it has become a big part of our family's social life.

Who is the person who taught you the most about the sport? I have learnt a lot watching my son progress through the sport, from 50cc Demo through to Pro grade and also coaching. Yvette Robinson taught and helped me out learning the ropes as Race Secretary; she was super organised and knowledgeable and always willing to help.

Where do you most like to watch motocross? I enjoy watching racing from the sideline. Even after all these years I still get anxious watching my son but I have to be there and if I am not there are many phone calls to check if he is ok. Unfortunately, being race secretary I do miss a lot of the racing. 

What's your take on the females you encounter in the sport? The determination of the females in this sport is an inspiration. They are tough and have enormous spirit to get back up if they have a fall. I love watching Charli Cannon or Chelsea Carter getting into battles with the males on the race track for top spots.

Do you ride? If so give us a little bit about your riding background. I do not ride – 2 wheels is not for me. I am only a danger to myself. The quad bike is my style – slow and steady – I will leave the riding up to my family. 

Who inspires you the most in the sport? The dedication of parents in this sport never ceases to amaze me, whether it's financial, time put into racing, training and travelling to emotional support for their kids. 

What are your goals for 2018? My biggest and greatest commitment this year is to the running of the South-East Qld Junior Series. My goal again is to grow this series while keeping it fun. I also want to keep attending a few club day events to keep myself up to date with issues that can be relayed to the board of MQ, to keep them in touch with the families in this great sport. I will be assisting in the running of a dirt track meeting later in the year, which I enjoy just for something different. Even though I am predominately from motocross I'm also part of the Sports Development committee, so I would like to continue to learn more about other disciplines.