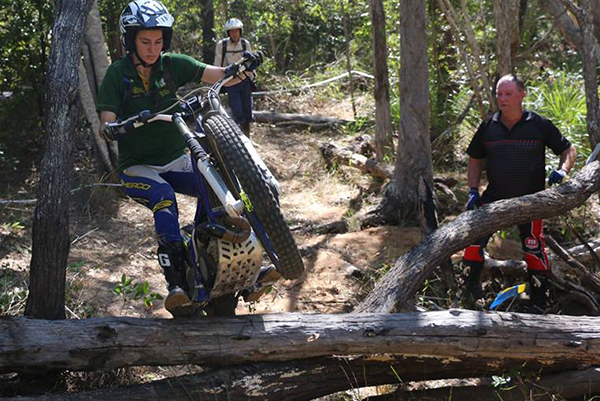 For Nicole Casey, moto trials is the therapy after study, the eternal carrot dangling before her that represents the next unconquered challenge, and more than anything, it's the proof that with hard work and perseverance, a rider can push beyond what was ever thought possible. 

Name: Nicole Casey 
Age: 21 
From: Gladstone 
Discipline: Trials 
Bike: TRS RR 250 
Sponsors: Revolution Trials and Off-road, GHRC, Desperate Products. 

I ride a motorcycle because: 
My dad, brother, uncle and cousin are all motorbike nuts, so I guess it's in the blood. My niece and nephew also ride. It's great to see them out on their bikes, hearing their engine sound effects as they ride past. For me, riding is a form of therapy. When you're out on the bike, nothing else matters. Riding has taught me to push myself beyond what I thought possible, and that with a little hard work and perseverance, there are no limits. 

The reason I compete aboard one is: 
There are no limits to what is possible. There is always something you could do better, or a bigger obstacle to aim for. It's like a carrot hanging in front of a donkey's face. I've hung the carrot in front of my own face, and now I can't get away from it! 

What I love about my bike is: 
This is my first year on the TRS and I love it! It's smooth, well balanced and light. It suits my riding style quite well. And after a few decent stacks, I can tell you it's indestructible. 

My discipline of motorcycle sport is: 
Trials ….and the thing I love about it is the skill, technicality and precision it requires. There is a fine line between nailing an obstacle and completely screwing it up. Crossing that line is the best feeling. 

The biggest high I ever got from competition was: 
Representing Australia in the Trial des Nations in Spain last year. It was awesome being able to compete in a team with two other amazing ladies, one of whom being my good friend and fellow Queenslander Sarah Chivers. Riding somewhere new is always exciting, but riding in a new country and competing against the word's best is incredible.

My favourite track/place to compete is: 
Pacific Park, near Sydney. The thing I love about it is that it has everything. Most places have pretty limited terrain. Some places have creeks and gullies, others have logs and rocks, but not many have a good mix. Pacific Park has it all in one place; steps, slippery banks, man-made obstacles. And the rocks are epic! It's impossible to get bored at that place. 

The person who taught me the most about my sport is: 
Major credit has to go to Angela Sophios who took 10-year-old me under her wing when I first started trials. Uncle Pete and the entire Chivers family have also taught me lots, not just about riding but about getting involved in the sport at all levels. Justin Gough and Tony Bax are good motivators, always pushing me beyond what I thought I could do. Of course, Mum and Dad deserve a mention, too. 

The person/people whose backing makes all the difference is/are:
My family, especially my parents, have always been so supportive not just of my riding, but of all aspects of my life. Uncle Pete has been my mechanic and minder for most of my riding years, and he has done an amazing job. As a minder, he has saved me and my bike from imminent peril more times than I can count. With him as mechanic, my bike has never missed a beat. Onya, Pete! Love your work. 

Outside of my motorcycle life I (school/study/work)… 
am a full-time final year Law student, having last year finished my Arts degree, majoring in Ancient History with a Classical Languages (Latin) minor. I've studied online for all five years of my degree, and riding has definitely helped me stay sane.

People might be surprised to know that I: 
People outside of trials are often surprised that I ride a motorbike. I've been told I don't give off the 'biker vibe.' I mustn't give off the metal head, classical pianist or acoustic guitarist vibes, either – people are always surprised that I'm all three. 

This year my goals are: 
to improve my placing at the Australian Titles. I'm currently ranked fourth, so a podium place would be awesome. 
…and the aspect of my motorcycling that I'll be focusing on most is: 
maintaining bike fitness and gaining a few more kgs. Psychology is also one of my focuses.