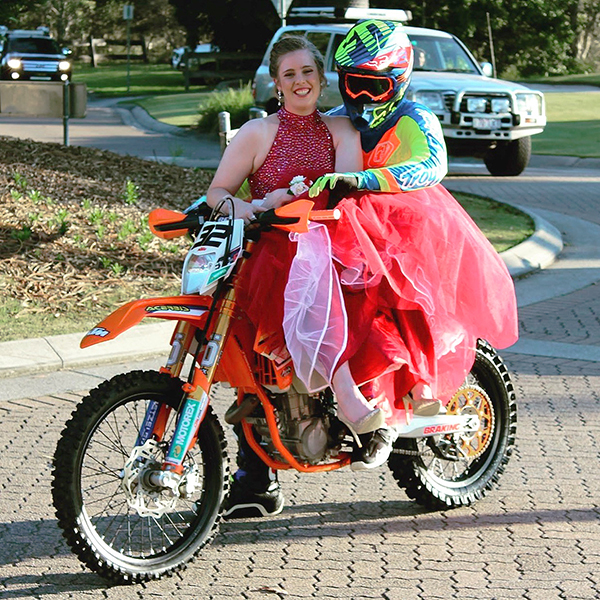 Ebony Nielsen is one of the fastest female enduro racers in Queensland – She's also our first of five prominent females we'll shine the spotlight on, to celebrate Women's Week 2018. 

Name: Ebony Nielsen (Benny) 
Age: 19
From: Wooroolin QLD 
Discipline: Enduro and a little bit of Motocross
Bike: Husqvarna TE125
Sponsors: My bank account
That Ebony is right at the pointy end of her field, and so completely infected with the love of motorcycling, is no surprise to those who have been around a while.
Her Dad, Richard, was one of Queensland enduro's most passionate enthusiasts, and in the late 1980s and early 90s, one of its biggest names.
Now though, it's Ebony's time to shine, and with a pair of podiums at the Husky Sprint Series opener a week ago, she's made it clear she wants to use 2018 to traverse that final gap to the top riders.

I ride a motorcycle because:
It all started when I was about 5 or so. My brother and I were in the backyard and I sat on the back of his XR50 with him (he promised not take off). Before long with no helmet or shoes on I was screaming trying to get him to stop. By the time we stopped I obviously had already caught the bug and before long I asked him to start doubling me again, eventually then learning how to ride on my own. Now I couldn't imagine life without bikes; it's what I do with any spare minute I have and I've met so many amazing people doing what I do.
The reason I compete aboard one is:
Riding bikes is something I have always done and something I enjoy doing. It's the only sport I've ever held an interest in and I think that's due to the adrenaline you get out of trying to go your fastest and pushing yourself to the limit.
What I love about my bike is:
My bike is pretty unique. There are only about ten of them getting around in Australia. I love it because I can not only race and ride it through the bush but it's a little 125 with road rego. It's an awesome little bike!
My discipline of motorcycle sport is enduro and the thing I love about it is:
I love enduro so much because of the ride time you get. You can go to a race and get a few hours on the bike. Not only that, every track you ride is always different and has different obstacles and terrain
The biggest high I ever got from competition was:
Probably my biggest high was when I raced mx last year for the first time in about 5 years. I was stressing about coming last and making a fool of myself, however when the gates dropped I lead the class for the first lap or so and I didn't really know what to do, I'd never been in that position before. Even though I didn't win the race I ended up coming second in the race and second for the series. That was a pretty cool feeling.
My favourite track/place to compete is: I haven't raced there in a while but probably Kyogle. The thing I love about it is it's a place that's has everything. It's got mountains, creeks, rocks, single trail and open trails; it's got the whole lot. It's such a beautiful place to stay for the weekend and then add racing on top of that. It's wonderful!
The person who taught me the most about my sport is: From a young age, definitely dad, he taught me how to ride and also the basics of how to look after my bike. However more recently my partner Adam has taught me a great deal, he has such a broad racing background and great bike knowledge and experience which has really helped me become a better rider!
The person/people whose backing makes all the difference is/are: My number one person is Adam. He supports everything I do, he comes to all the races and always looks after my bike and I. He fixed all my broken parts and is always giving me tips on how to improve. He always finds time for me even amongst his crazy training/riding life.
Outside of my motorcycle life: I work full time as a Customer Service Officer for Bendigo Bank.
People might be surprised to know that I:  I once hated two stokes. Mum and dad bought me a 65 and I gave up riding for about 5 years because I was scared of it. I then wanted a horse but never succeeded. When I was about 12 I started riding again but It wasn't until I was about 15 that I dare ride another two stoke.
This year my goals are: To race as much as possible and as many different races as I can. Also, to continue to get closer in speed/time to some of the girls who have always been a bit quicker the me.
The aspect of my motorcycling that I'll be focusing on most is:  Definitely more so than ever I am trying to focus on my fitness. Fitness has always been my down fall as I've always just wanted to race and ride and not concentrate on it. I think it plays a big part in trying to improving my technique and speed and this is why it is the aspect I really need to be focus on.