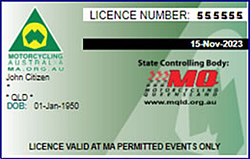 Well… It turns out our winner would like to remain un-famous at this time, and we're down with that. After a nice conversation though, we can tell you that he's male, he's a nice bloke, and a proud member of the Rockhampton and District Motocross club who will be using his new licence to race motocross – a sport he's just come back to after a decent layoff.

He was happy to for us to share his comment though, which goes like this: "Thank you for this prize, it's unbelievable – like winning the lottery. It's greatly appreciated, thank you very much!"
Our three 12 month licence winners were: Tom Wager, Owen Ward, and Andrew Hanlon.
Happy trails (or tracks) guys!