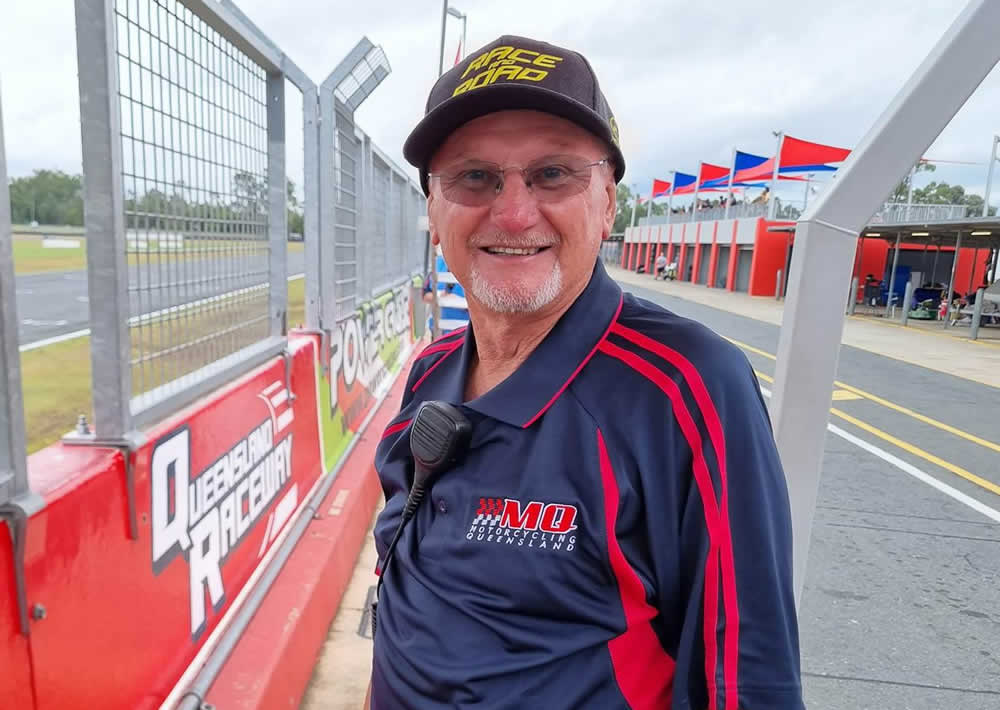 The beautiful, magnetic and lifelong attraction of motorcycles is something that only other bike afficionados truly understand.
Most Aussie road racers know Start Line Sam. He's a people person whose motorcycle journey began in the 1950s in Ireland, and "hasn't really stopped". In the 80s he'd been in Australia about three months when a friend asked if he was coming out to the track for the race, and no-one's been able to keep him away since.
MQ: When did the motorcycling journey start?
SLS: It started in the 1950s in Ireland, and then I thought when I emigrated to Australia that would be me finished, but when I went to Oran Park in '83, it started all over again. I lived down the road from there, and I could always hear when there was things on the track, and the adrenaline would rip in, and I'd have to see what was going on. Motorcyclists are a very peculiar bunch of people in that we never like to give it up, and when we hear anything about motorcycling, our ears prick up. Other people who have never experienced that can never understand us.
I like the camaraderie in the sport. We all want to beat each other on the track, but off the track, if you can help someone who's broken down, manually, or with a part, everyone lends a hand because that's what motorsport is like.
MQ: When did your volunteering journey begin?
SLS: In Ireland, 68-69, and in Australia, basically about '84. A call came out over the PA, "we need more officials, can you help?" and my mate said, "that's you, get in!" And I was in.
I was helping on the grid, and the gentleman who was doing it at the time, said, "what experience have you got?" and I said, "well, I've done your job, overseas". He said "Great! I'm just about to retire, so I'll hand over to you."
MQ: What's your role?
SLS: I work for ASBK, and my title there is, Chief of Grid and Pit Lane. My job is basically, make sure the right people get on the track, and when I'm on there, I make sure the riders are comfortable for a race start.
Inside the pit lane, it's keeping families and mechanics happy, because they've always got questions. So, whenever the rules come out for another race meeting, I make sure I read them.
More than the riders, you get to know the families, the daughters, the sons, the fathers, the mothers, the aunts, the grannies… And for me, I'm a people person. I love talking to people, and I never stop.
Now I'm retired, 73 years old, been in the sport for over 50 years and live in Hervey Bay. QR and Morgan Park are probably my local tracks, and I'm looking forward to whenever Townsville gets open. I'm really waiting for that first one there. I spoke to Tim Hewitt, who is on the committee up there and he said it's very close. He said a funny thing to me the other day, he said, "it's so close you can smell the race track."
I said, "that explains everything!" for a motorcyclist it does, anyway. I can't wait to get up there and see it.