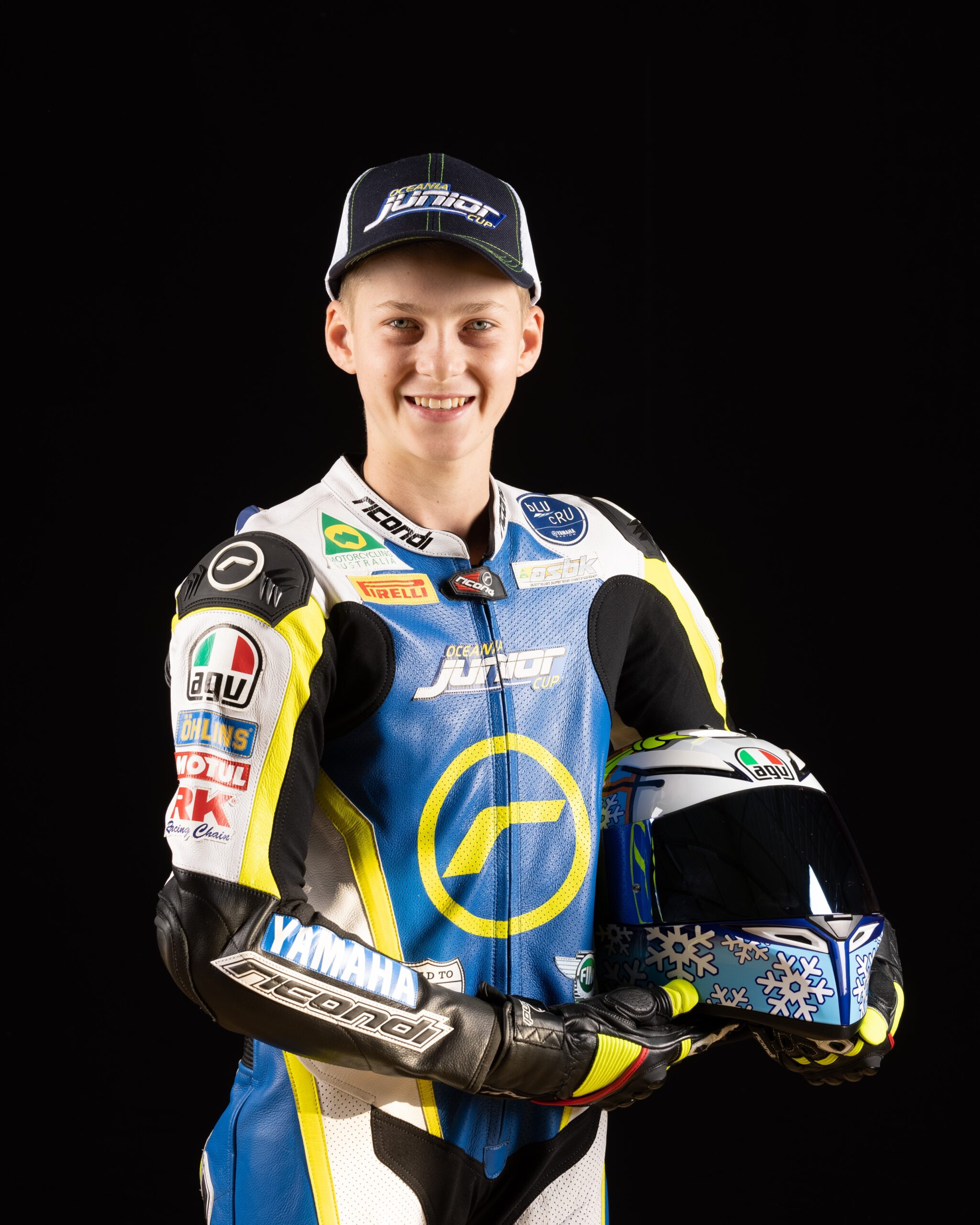 There must be something special in the water in Townsville as another motorcycling talent has emerged in Lachlan Moody who has shown in his first year in the bLU cRU Oceania Junior Cup that he has a bright future in the mi-bike Motorcycle Insurance Australian Superbike Championship, presented by Motul.

Moody joins a long list of Townsville motorcycle talent from the region, most recently including MotoGP star Jack Miller, WorldSBK Supersport rider and former ASBK Over 300 Production Champion, Billy Van Eerde, and former Oceania Junior Cup rider, Lucas Quinn.

The 15-year-old from Ignatius Park College love affair with motorcycles began when his uncle suggested he get a motorcycle when he was younger.

"We went to Billy Van Eerde's place, and he had a Honda 50, so I tested that out and I liked it," said Moody.

Moody would progress quickly through a number of bikes doing dirt track racing and became close friends with both Van Eerde and Quinn.
"Lucas Quinn got his R15 and I gave that a go and I liked it.

"At that time Quinny was doing the Oceania Junior Cup, and I tried motard and gave that a go and he told us about the OJC program and we thought we would give it a go."

In March this year, Moody lined up in his first ASBK race at Victoria's Winton Motor Raceway, home of the bLU cRU Oceania Junior Cup, and hoped for a top 15 finish.
"I was nervous that morning and I was on the toilet for half an hour," Moody said laughing.

But once on track the nerves settled and he got straight down to business.

"I was there to learn but gave myself a goal of finishing in the top 15 of each race and I got the hang of it really quickly and I noticed I was really enjoying it, so I stepped my game up and tried giving it more of a crack."

In his first practice session, Moody set the 13th fastest time and managed to improve his times over the three practice sessions by more than 4 seconds with an impressive 11th fastest time.

In the two qualifying sessions he would smash his lap times by a further three seconds with an 8th fastest and 11 fastest time in qualifying session 2.

In his first Oceania Junior Cup race, Moody would score a sensational 8th place, but didn't realise where he finished until he got back to the pits to see his Dad.

"I was unsure where I was, and I tried keeping up to the front pack, but I couldn't.

"Dad told me where I finished, and I was stoked because I was unsure.

"Dad was like 'what have you done' he was so surprised. It was a really good feeling."

In race 2 Moody would go one better finishing in 7th place.
"I tried some different lines, and I was sitting behind Levi Russo and passed him once but then I fell back some positions.

"I had a good line and speed between turn 1 and 2 and I was sitting in fifth or sixth but got passed on the last lap."

In race three Moody admitted he braked late into turn 1 which upset the bike as he hit the curb and the bike slipped from under him crashing.

Moody shattered his humerus bone and was concussed, and despite the incident is wrapped with results overall.

"I was stoked with my result, as it was only my fourth time on a road bike.

"Unfortunately, while recovering I got a staph infection, which made it worse for my recovery time, but I've been back on a bike a month or two now and feeling good."

Because of Moody's accident he missed Round 3 at Wakefield Park Raceway, NSW.

While the racing has stopped during lockdown, Moody has gone through a significant growth spurt requiring him to get measured for a new race suit from Oceania Junior Cup partner Ricondi Motorcycle Apparel to be ready for the next round at Phillip Island Grand Prix Circuit.
"I've never been to Phillip Island, but I'm excited to do it.

"Lucas Quinn who had three wins there has been talking to me about it. I reckon I will do alright as it is really flowy."

Moody has high praise for the bLU cRU Oceania Junior Cup and ASBK family.

"Getting to know them all was really good. Damian Cudlin has been helping a lot and the mechanics are really good to talk to."

Moody hopes to finish the year on a high note.

"The end goal for the year is to finish in the top 15. I could have been top ten 10 if it wasn't for my crash."

And during the Christmas holidays he is hoping to ride again with his friends and fellow road racers Jack Miller and Billy Van Eerde.

"They taught me how to ride and Billy has always been a good mate, they aren't arrogant or anything.

"If I do good in OJC I hope to get selected for the Asia Talent Cup, that would be cool and a confidence booster."

For now, Moody continues to train hard in preparation for the Grand Finale of the bLU cRU Oceania Junior Cup at Phillip Island Grand Prix Circuit, December 3-5.

Motorcycling Australia last week unveiled the 2022 bLU cRU Oceania Junior Cup Yamaha R15 – https://www.youtube.com/watch?v=jA8_BQD90yQ
If you are aged between 11 and under 16 the 2022 bLU cRU Oceania Junior Cup applications are now being accepted until November 2nd.
So, are you ready to Chase the Dream? Head to www.asbk.com.au to register your interest and find out more.

Keep up to date with the latest news on the mi-bike Motorcycle Insurance Australian Superbike Championship, presented by Motul via www.asbk.com.au and following ASBK on Facebook and Instagram. You can also join our ASBK mailing list at www.asbk.com.au
Pictures by ASBK/@Optikal and Andrew Gosling