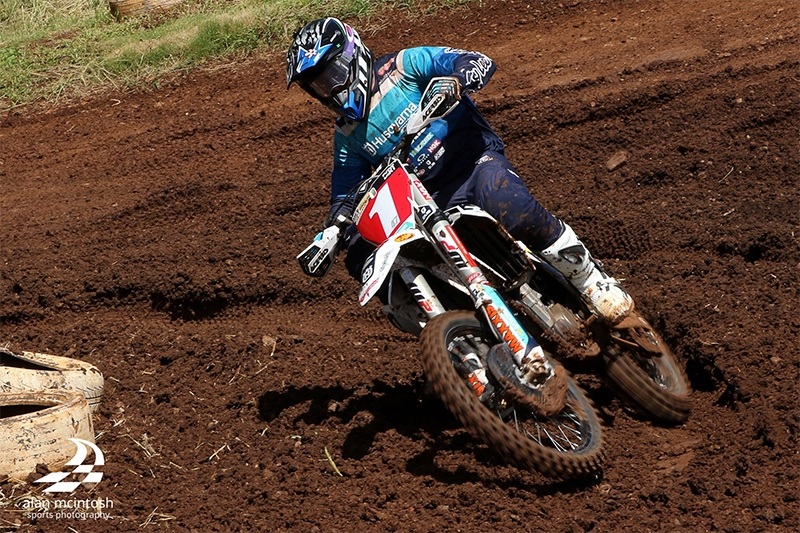 Aussie motocross champ Todd Waters has become the first rider to take back-to-back Mountain Man titles since Craig Dack in 1986/87, and only the third in history (Pelle Granquist won 1978/79 was the other) after a closely-fought battle yesterday.
In the title class, Waters was the first to put Mountain Man Unlimited class points on the board, the North Queenslander winning an epic (30 minutes plus 1 lap) moto from Aaron Tanti by less than a second.
Tanti returned fire quickly, winning the first and last of the three sprint races while Waters took the middle one.
In the final washup it was Waters (1,2,1,3) over Tanti (2,1,4,1) and Jay Wilson (3,3,2,2), with Jesse Dobson (8,4,3,6) and Hugh McKay (4,6,7,5) rounding out the top five.
Local ace Kaleb Barham won the Michael Williams Memorial 125cc Cup title aboard a Husqvarna 125 borrowed from rapid junior Kobe Drew, defeating Harry Purdey and Darcy Cavanagh.
Barham was glad he had Drew's bike handy, when a mechanical issue just prior to the 30–minute moto meant that he had to use the 125 in the long race, where he was able to take it to 5th place.
Junior Mountain Man honours went to Kobi Wolff ahead of Kobe Drew and Jack Williams, while Jake Cannon won the Mini Lites from Joel Freiberg and Damon Erbacher.
Saturday's biggest class was the Women's category, and Tahlia Drew took two wins and a second to take her first Mountain Man title from an impressive Hayley Miller.
Miller ended her day on a high note, taking out the third moto, while Taryn Cox finished third overall with a consistent 3, 3, 3 card.
The Sidecars are always an exciting spectacle and Wayne Holloway and partner won from David Mattock and partner, while Daniel Parker and partner were third.