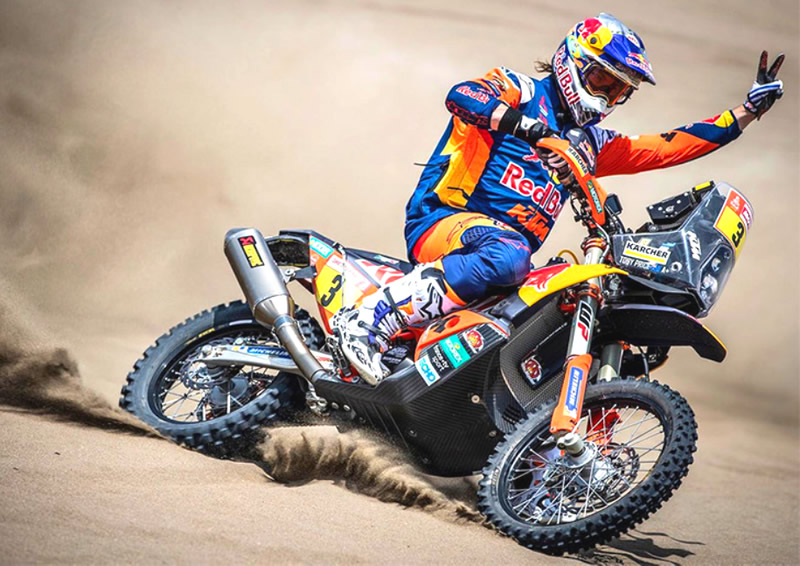 It's going to be his last weekend in Australia for a while, and legendary desert racing hard man Toby Price can't think of anything he'd rather be doing than racing both a buggy and a bike in the Don River Dash near Bowen.
This weekend's second-ever Don River Dash will see car and bike competitors race 300 kilometres up and down a 25-kilometre stretch of riverbed, with three laps on Saturday, and three on Sunday.
The full-throttle sand action and a format with cars racing in the morning and bikes in the afternoon was like a magnet to motorcycle racing's fastest cross-racer, and Price intends to bring his eye-wateringly fast Can-Am buggy (pictured below), as well as his KTM Rally bike.
"It's been a strange year for me," said Price. "I haven't been on a plane since February and there have been no events for me until the Gundy 400 last weekend where I raced the Can-Am.
"It was good to have the first few months to let the body recharge and get used to normal life, then the last few months I've been hooking in to getting back into riding."
Price recently spent some of that time training with Townsville MotoGP racer Jack Miller, and some videos of the two finding new ways to challenge each other was shared around the world.
"That was great fun! Now that it's all kicked back off, I'll take some of the credit now that Jack's doing well. I'll have to get in touch with him and ask him do I get a bonus every time he podiums!" laughs Price.
The two-time Dakar winner will officially be back on Dakar prep himself next week, so he's making the best of this weekend.
"I've heard really good things about the Don River Dash – last year everyone loved the event and the race," he said, "so I was intrigued, and I'm excited to take the cars and bikes and have fun racing.
"We'll come back Sunday or Monday, then on the Wednesday we'll fly out for some testing and training and get organised for Dakar – though of course the way world is we don't know what's around the corner.
"The club is excited, and the event looks cool," said Price, "so I'm looking forward to being there for my last weekend in Oz for a while. And there's nowhere better to spend it than at a racetrack and trying the Don River Dash for the first time."
With around 150 bikes and around 80 buggies taking part in the Don River Dash, entries are filling fast, and your last chance to throw in a sneaky Early Entry finishes at 11pm tonight.