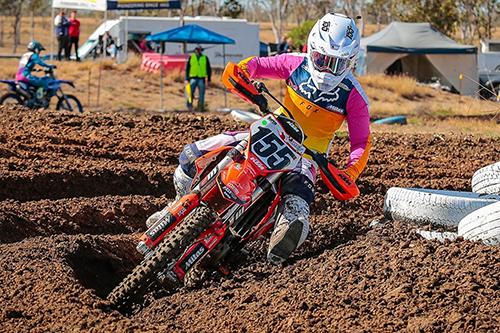 Tamara Gray is the most accomplished rider in the brief history of Queensland Women's motocross, winning 10 Queensland Women's Motocross Championships before turning to enduro racing, where she's since gained a gearbag full of accolades as well.
Now 36, she occasionally returns to her motocross roots, like last weekend when she rode at the Queensland Women's and Vets Motocross Championships at Roma. There she finished a spectacular second, topped off with a brilliant win in the final moto.
We thought it was cool, and decided it was time for a catch up.
It was great to see you out at the Queensland Women's Championships blasting around. How was it for you?
Roma did a great job prepping the track – Roma is typically a black-soil, hard-pack track. But they've dropped on a tonne of sawdust and ripped it in. I expected hard-pack, but in lots of places it wasn't. It got a bit one lined and difficult to pass on if you weren't on the main race line. It was pretty challenging, especially for the smaller bikes.
When was the last time you did a Queensland Motocross Championship?
I last did one in 2015 on a 125SX when I was focused solely on enduro and placed second behind Sarah Guthrie and in front of Nicole Kenny. But the last time I did one seriously was in 2012, I also placed second there behind Mackenzie Tricker, and in front of the then champ Courtney Knight. I didn't have any expectations this year – other than that I would be very underdone. I was surprised and glad though, to still be competitive.
When did you make the decision to ride Roma?
I'd only decided to go to Roma the Sunday before; Katrina Ayers from the Roma Club had contacted me that night looking to boost numbers and I had ridden at QMP earlier that day and thought I was riding well enough, so I entered. I headed out there not having done an MX race for 13 months or ever practiced a start on the 350. I didn't know how to use its start function.
So what perspectives did you have of the scene?

I'm really impressed with the volume of girls coming through the ranks – that's the biggest change since last time. The senior Women's has always been pretty well contested, but I reckon the next 5-10 years will be a whole new ball game in terms of speed, and that's pretty cool!
So how did it unfold for you?
On Saturday I got a terrible start, but I found a hot line between turn one and two when everyone else had drifted wide and went from about 15th to 2nd. In the middle I started catching Tahlia until we caught some lappers. I struggled with the overtaking them and she got away from me. In the second one, on Sunday morning, I started about 6th or 7th but tightened up and got some arm pump, then crashed and could only manage a 5th.
Then you won the last race, which was awesome!
Yeah that was my standout race. My starts were bad right up until the last race. I passed Tahlia between the first and second turn and then she fell, and after that I didn't want to know who was there or how far behind they were, I just had my head down. I couldn't breathe because it was so cold and I was counting down the laps because I was just absolutely buggered. I was so happy to see that last lap board, and I was pretty chuffed to win that race – that was easily the highlight of the weekend for me.
We seem to have trouble maintaining momentum with our female riders in Queensland. What are your thoughts on that?
I think the first thing is that the girls seem to stop racing with the guys when they get older. There's a limited number of girl-only events, but more to the point if you want to build your skills you have to race the guys at every opportunity you get. You're never going to push yourself hard enough if you just keep riding in the same talent pool.
Keeping girls in the sport once they've gone senior and there's lots going on in life is hard, there are plenty of distractions and you've got to love it to make it work. Once you get a driver's license, a job, and maybe no longer have your parents there to help out or work on your bike – driving to Roma to freeze your backside off can seem unappealing.
So why did you continue in the sport?
I suppose it was a little different for me. Women's racing only started when I was 18 – 20. Until then I'd grown up racing boys and thinking I would never win a race. Suddenly I was winning women's races and it was like an addictive drug! The reason why I still do it now though, is because I have a genuine love for riding my motorcycle well. I enjoy going to the track to see how many guys I can be faster than, I'm still extremely competitive.
So apart from racing boys, you reckon there's another important factor?
I think one of the important reasons I stayed in the sport was that when I was growing up I was quite independent on race day. Both my parents were usually off running the race meet. Dad also always made us do bike prep. He'd say, "you want to race this weekend? You've got to do XYZ to your bike." But because he did that, it was less of an adjustment when I did start out on my own, because I knew how to maintain my bike and take care of myself on race day.
Great to talk to you Tam, thanks for your time.