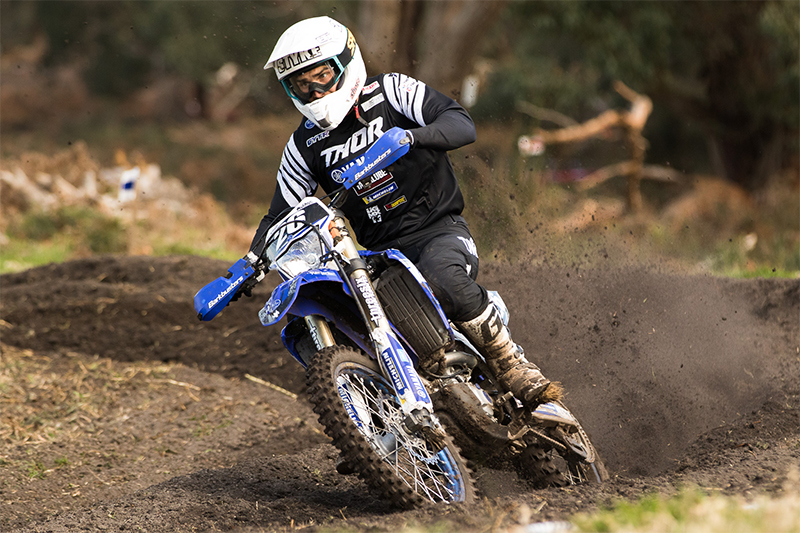 Gold Coast-based former Australian MX Champion Luke Styke has wrapped up an incredible achievement, the Active8 Yamaha Yamalube rider wrapping up his second straight AORC championship at the weekend.
The eleventh and final round of the 2019 Yamaha Australian Off-Road Championship (AORC) saw Daniel Milner (KTM Enduro Racing Team) and Daniel "Chucky" Sanders (Husqvarna Enduro Racing Team) already established in their Champion's positions in E2 and E3, leaving the final Sprint to decide who would reign victorious in E1.
The E1 class saw arguably the most concentrated pool of talent in the AORC pits, and has put on a spectacular show right from the get go back in Toowoomba, Queensland. At the final round here in Hedley, the top five athletes banged bars for the fastest total time, but it was Styke who came out on top over Michael Driscoll and Lyndon Snodgrass on the day.
The 2019 E1 Championship podium saw Styke followed by Snodgrass with another Queensland rider, Fraser Higlett (Husqvarna Enduro Racing Team) in third.
"It means a lot to me to win back-to-back E1 titles! It's always easier to win your first title than it is to back it up the next year, and the boys out there really brought the fire this year," explained Styke.
2019 AORC E1 Round 11 Top 10 Provisional Results:
1. Luke Styke (Active8 Yamaha Yamalube) 46:35.735
2. Michael Driscoll (Active8 Yamaha Yamalube) 46:52.326
3. Lyndon Snodgrass (KTM Enduro Racing Team) 46:54.350
4. Fraser Higlett (Husqvarna Enduro Racing Team) 48:15.364
5. Lachlan Allan (Kawasaki Castrol Off Road Team) 51:32.690
6. Ashden Gramlick 53:11.795
7. Bailey Koolen 53:13.962
8. Christopher Wynd (Cassons Hargo) 54:08.874
9. Alex Rudloff (Kawasaki Castrol Off Road Team) 55:40.227
10. Lachlan Muir 55:59.567