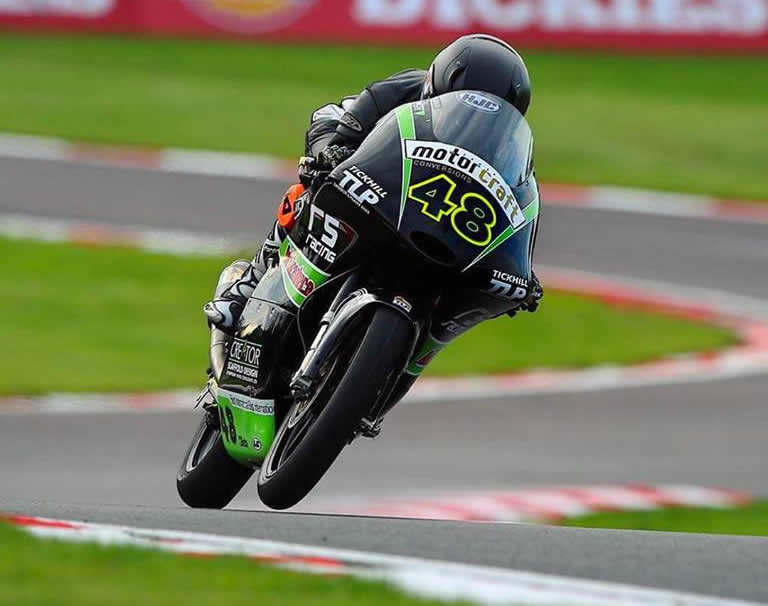 Sunshine Coast road racer Sharni Pinfold has returned from two seasons in the UK with arguably one of the more interesting racing stories behind her. Tahlia Drew got the chance to catch up with the 25-year-old from the Sunshine coast for Queensland Women in Motorsport to find out about Sharni's short but eventful racing career so far.
QWIM: So Sharni, how did your journey into motorcycle racing come about?
Sharni: I grew up around bikes most of my life, my dad Paul Pinfold raced speedway sidecars for around 50 seasons, so I pretty much lived at different racetracks traveling around with dad. When I was younger, I grew up in a single parent family, so I didn't have the opportunity to get on a bike until later on, but then I started off racing dirt track on bikes I'd borrowed off friends. Then I switched to road racing which was always my main goal. Now I've done three-and-a-half years of road racing and around one-and-a-half years of dirt track.
QWIM: Your last season where you raced Moto 3 in England was very interesting, can you tell us what it was like being an Aussie and a female over there, especially being relatively new to the sport. How did you feel turning up to the races?
Sharni: It was quite overwhelming the first couple of times, the BSB over there is quite a big championship, bigger and a lot more competitive than I thought. There was a lot to contend with, having to adapt to and learn all of the tracks because I obviously hadn't been to any of them before, then being on a new bike, and obviously the weather conditions were very different. But I just kept chipping away as much as I could, there was so much to learn in a short time frame. Every time I got off the bike I took the data off the bike and I'd take the data off my teammate's bike and compare the two. I'd have a camera on each bike and compare the line choices each of us were taking and I just studied every bit of info I could to continue to improve.
I put in a lot behind the scenes as well to try and improve and by the middle of the first season it started going quite well. I made quite big jumps from there on. The first half of the first season was hard and I felt out of place but I just kept building and building and from the middle of the year to the end of that year it just got better and better each ride.
QWIM: And how was racing overseas different to racing in Australia?
Sharni: It was quite a big step for me because in Australia I'd only had a good year and a half under my belt, and I hadn't competed in nationals in Australia, so when I went over to England, I didn't really have an idea of how big the championship was. The level of riders in the championship I was in was quite high so it was a quite big jump straight into the deep end. The bike I was riding was an ex Grand Prix Moto 3, so it was a prototype like bike that is built for the best riders in the world so it's only rideable in a very specific way. They're quite hard to ride especially the KTM, so coming with not much experience, it was quite a hard bike to jump straight on in a big championship but I guess when you're put in that situation it helps you progress faster because you don't really have a choice, you've just gotta get on with it the best you can. I was in a really good team which helped a lot, so that taught me a lot but it's just hard to short track experience when you haven't really had it. It was a really fulfilling experience, so I plan to continue going with it.
QWIM: The back story of your time in England is quite an amazing one too, isn't it? You were actually a mechanic for the team you were riding for?
SHARNI: Yeah. In England the way that racing was possible was that I worked for my team full time for no wage. I maintained and prepared all the bikes in the team and took on all duties involved in running a race team, I was also my own mechanic at racing.
QWIM: Wow, there's not many people that would put in so much effort just to race so that's really amazing! What was your favourite track or place to race while you were over in Europe?
SHARNI: Good question. They've all got their good and bad. There's a lot of different variabilities throughout the tracks in England. My favourite I'd say might have been Knockhill which was up in Scotland. That's actually where I broke my collarbone but apart from that it was a favourite!
QWIM: What do you love most about motorcycle sport?
SHARNI: I think just the feeling you get when you're on a bike, it's just being one with the bike, you just go into this very concentrated zone when you put your helmet on and nothing else really matters. It's just an amazing feeling.
QWIM: What are your best achievements so far?
SHARNI: With dirt track it was winning two state titles and then with road racing the best result I achieved over in England was a top five in one of the races, so that was a pretty good achievement for me.
QWIM: Awesome, that's great. Has there been a hardest point in your career?
SHARNI: Hardest point… I'd say it hasn't actually been a really easy journey at all. My dad passed away just before I was meant to meet with my first sponsor when I was about to start road racing, and from then on I was sort of on my own with it. I've never had any financial support during my career, so I've just had to make it work in different ways. When I first started racing in Oz I ended up moving down to the Gold Coast to work for one of my sponsors at the time to be able to continue racing and have some support where they transported my bike and helped me with riding gear a few things at the track.
Then in England the whole journey was really quite tough – it's been hard but it's been very rewarding at the same time. I guess I've just gone about it in a different way to most people.
QWIM: I've noticed that you've had a few collar bone injuries. How did that happen and what was the rehabilitation process with that?
SHARNI: The first time I broke it I was actually training, cycling and I had a plate put in it. It wasn't quite ready to be taken out before I went over to England, so I kept it in for the first season. Then in the off season when I came home in 2018 I had the plate removed and then the following year, 2019, I had a crash and re-broke it and had the plate put straight back in. Rehabilitation wise, I had a really good chiropractor over in England, and he helped me a lot through the injury. By having it plated it was a quick turnaround, it only took a couple weeks (to heal) so I think if I didn't have it plated it would've been a lot longer ordeal.
QWIM: So, what are your racing plans for the future now?
SHARNI: Well right now I'm back working as a dental nurse on the Sunshine Coast, and then I've been given another opportunity to race overseas again in the European Women's Cup championship, which is held in conjunction with the Italian championship. I think that's the only female FIM-accredited championship for women so I think that would be quite a good opportunity for me. But what I want I suppose is to just go as far as I can with the sport and then once it's not an option to ride any more, I'd love to continue working in Moto GP or to try to be an ambassador for the sport and help girls get involved a bit more. I'm looking at different avenues but I think it's something that will always be a very strong part of me.
QWIM: That's great. So, how do you hope to help girls out with racing?
SHARNI: With the journey I've had to take to make my own racing happen, I guess I hope that I can inspire girls to know that if it is something that you want to pursue and you have the belief and the willingness to try, then nothing's impossible and you can make anything happen. Just because you're a girl doesn't make you any different to anybody else out there on the track, we're just as capable as the boys are. So, I hope I can inspire at least one person out there, that would be amazing.
QWIM: Awesome, so, what are you interested in besides motorsports, do you have any hobbies?
SHARNI: Before bikes I used to ride horses quite a bit so I still love horses a lot, I think that will always be a passion of mine. I love cycling, I spend most of my time training really, I love any sort of fitness training, cycling is a big one though but anything outdoors, that's me really.
QWIM: Well it was awesome to talk to you Sharni, good luck with your future racing!