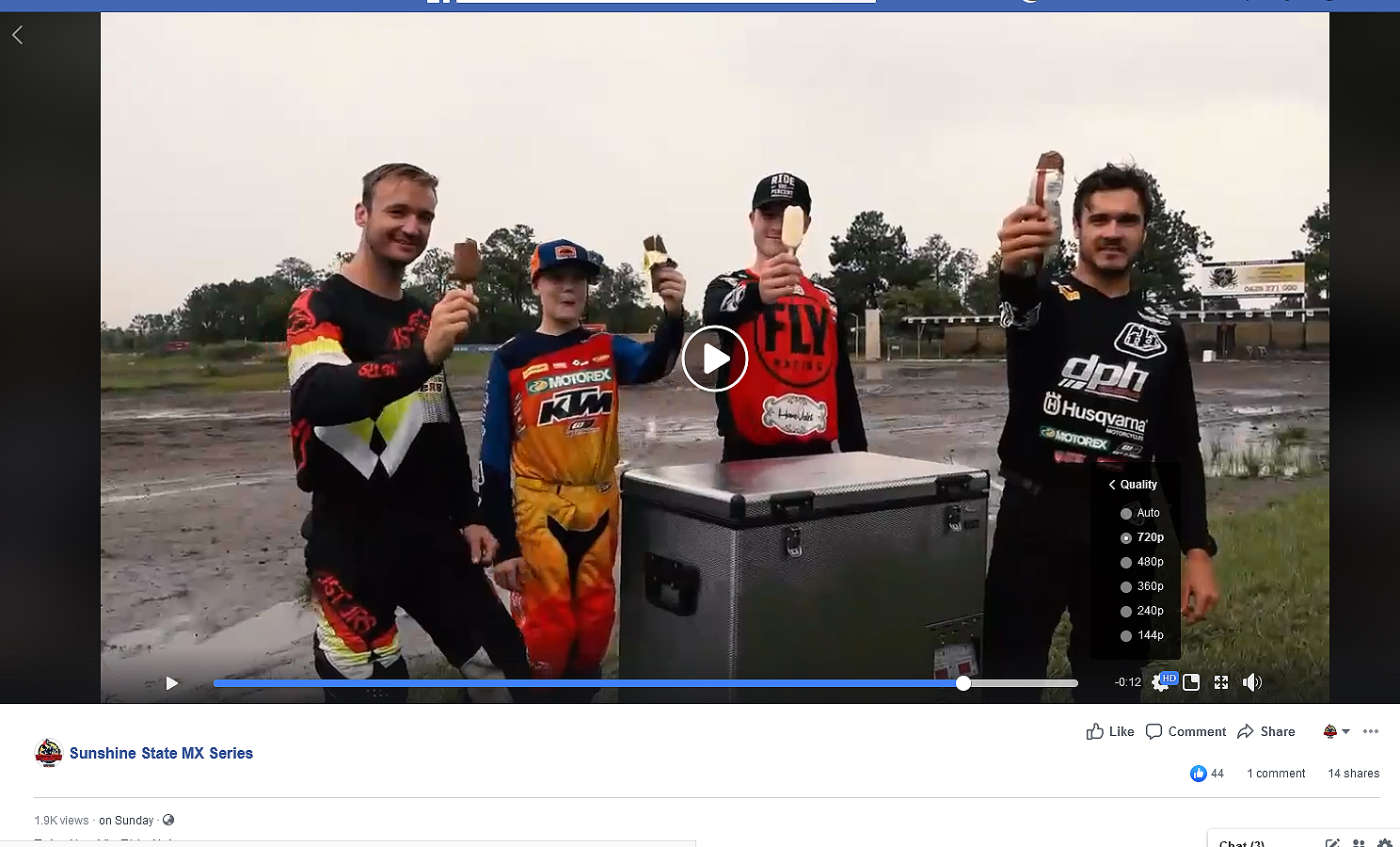 A not-so-brief look at what's going on around the major events and series in Queensland in 2020
New look Sunshine State Series
The team that has been organising the SEQJMX Series for the last five years has greatly expanded its scope for 2020 – now organising and restructuring the Sunshine State MX Series, Qld Titles and SEQJMX Series for season 2020, under the continued guidance of the MQ Motocross Subcommittee.
The well-drilled and enthusiastic team of Anne Polsoni as Race Secretary, John Gierke (Clerk of Course), Mel Lee (Assistant Race Secretary), John Armstrong (Announcer and Chief Scrutineer) and Clerk's Assistants Jeremy Paton and Howard Perry will be officiating and bringing the show together.
"We've listened to feedback from riders, officials and sponsors," said Series Coordinator Anne Polsoni, "and come up with some exciting changes and additions to improve on the series and boost entry numbers.
"We'll also vary the race lengths; with a longer race for the fitter rider, a sprint race for the quick starters and an average-length race to decide the day at each round."
This year's venue selection provides a mix of surfaces to challenge competitors, but includes one brand new location, and some old favourites back by popular demand.
Comiskey Mining Services Sunshine State MX Series dates and venues:
Rd. 1 – Coolum, 29 Feb/1 March
Rd. 2 – Kingaroy, 28/29 March
Rd. 3 – MX Farm Gympie, 18/19 April
Rd. 4 – Toowoomba, 9/10 May
Rd. 5 – Warwick, 30/31 May
Other changes include prizemoney to more riders and bonuses to Junior B & C grades, Veterans Expert and Clubman. Red #1 Plate stickers will be awarded to series leaders at each round. Plaques will be awarded to the first 3 placings in each class and grade at each round along with their prize money.
"We have a number of great prizes to give away. A random lucky rider who competes in all 5 rounds will win a National Luna fridge freezer valued at $2000, while 15 sets of Maxxis tyres will be awarded for the Maxxis Memorable Moment of the round. We will also have Motorex starter buckets that contain great bike maintenance products. Our friends at MXstore will have gift packs for the top three 50cc Auto riders."
An MXD class for the 16yrs-U19 clubman riders will simultaneously thin the bulging MX2 clubman grids and showcase the state's hottest teenage up and comers, while senior riders will be offered self-scrutineering.
Presentation will be held at the conclusion of racing each day, in order to bring all riders together to celebrate the day's riding and to thank their sponsors in front of a larger crowd.
"Dean Ferris, Todd Waters, Jett Alsop and Blake Cobbin all collaborated to make a fun promotional video (right here) ," said Anne, "so we thank them for helping to promote the sport we all love.
Sarah Higgs from Moto Physio To Go will be trackside at most rounds for all your physio needs.
"MPE will be set up to assist their customers with suspension or maintenance needs.
There will be a great range of food and drinks available from club canteens for breakfast and lunch. Each round will have food available at night, Coolum will have a Pizza vendor coming in. Tanya will be at every round to serve up her hot delicious coffee to get us started.
"We have some wonderful new and old sponsors helping us out in 2020. A big thank you to our naming rights sponsor – Comiskey Mining Services for coming on board. They are joined by AE Group, Maxxis Tyres, Motorex Oils, Serco, Southside Auto Auctions, MPE, Civil Skill, Always Livin, MXstore, KTR and Backyard Designs. These great supporters will all be in the pit area to showcase their products or services."
……………………………………………………………………………………………………………………………
Queensland Motocross Championships
The Queensland titles are run by the same organising team, and they are currently finalising the details which will be released shortly.
What we can tell you however, is that:
Round 1 will be in Yeppoon (June 20/21) – a new track for the Qld titles with a central location near the seaside. The Keppel Coast committee is hard-working and easy to work with, so planning should go smoothly, and how could a rider resist a race and a short holiday in the Great Keppel region?
Round 2 will be at Hervey Bay (August 1/2) – coincidentally another venue close to a holiday destination. This sand track has been a proven state title favourite over many years.
……………………………………………………………………………………………………………………………….
CASE Mountain Man
Mountain Man is back at the famous Echo Valley circuit on March 7/8, with entries already open on Ridernet. This event has a huge prize money pool, as well as the added incentive of providing tough practice for the top riders ahead of the MX Nationals. Mountain Man event is popular with spectators and riders alike with a large line up of women, classic classes and the perennial crowd pleaser – the sidecars.
……………………………………………………………………………………………………………………………….
KTM SEQs
To start the 4-round graded series for 2020, the series will visit Bundaberg on the 15th & 16th of August, where the hard-working crew there is already planning for a series return.
Round 2 on the 5th & 6th of September will be hosted by the 2019 MQ club of the year, Kilcoy.
South Burnett will see us traveling west to Kingaroy on the long weekend for Round 3- 3rd & 4th October, before to finish up the series we are heading to the Sunny Coast at Coolum 24th & 25th October for a change to challenge riders on the sand.
The format will remain unchanged with the younger riders along with the Veterans and Women competing on Saturday with a slightly easier track than the older riders on Sunday.
The MX legend Dean Ferris will be back again to mentor the young riders.
……………………………………………………………………………………………………………………………….
MPE CQMX Series
It's a big year for racing in CQ, not least of all because 2020 marks 40 years since Noel Stitt, then CEO of ACU Qld (now MQ), Bud Markley and Ron Single decided to form a CQ series in 1980.
According to Series Coordinator Julie Newsome, "Everyone is excited about the fortieth year of CQ motocross this year, and we'll mark the occasion in a number of ways such as trophies, merchandise, extra photos in programs, and a special red plate which will be something to keep for 40-year anniversary.
"Hopefully we'll be able to get Bud Markley to hand out the series trophies at Mackay this year.
"Behind the scenes the drought has put pressure on us because a couple of clubs don't have water, and we've gone from six rounds to five, with locations in Rockhampton, Yeppoon, Biloela, Emerald and Mackay.
There are a couple of format changes including juniors who will now be able to ride in three capacity classes; 85cc, 125cc and 250F, and all of it is designed to provide more ride time for more people, and make it more even across the board.
……………………………………………………………………………………………………………………………….
JR's TNQ Series
It's still somewhat early days for the TNQs as the wet season takes right of way due to its propensity to make a mockery of race plans.
Series Coordinator Tracey Grinham has checked in with provisional series dates however, (although N.B. the first is odds-on to change):
Rd 1 – 27/28th June – Tully – TBC
Rd 2 – 18/19th July – Townsville
Rd 3 – 8/9th August – Charters Towers
Rd 4 – 29/30 August – Mareeba
Rd 5 – 18/19 September – Cairns
Like the other regional series, the TNQs are likely to see a freshen-up of format. The clubs are considering changes pertaining to rounds/days, so stay tuned.
……………………………………………………………………………………………………………………………
KTM AJMX Championships, Rockhampton
In the middle of the year all eyes will focus on Rockhampton as the club hosts the KTM Australian Junior Motocross Championships from July 6-11.
The club has invested great pride and passion in this project for over a year already, and the event is certain to be a top-shelf promotion, and a worthy showcase of the nation's best junior motocross talent.
……………………………………………………………………………………………………………………………….
WoW Series
The WoW (Women on Wheels) series will be back larger than life in 2020, again with a 3-round series with dates on May 2/3, June 13/14, and July 18/19.
Series Coordinator Mel Stagg is hard at work trying to lock in the right variety of tracks, but the drought has made the process take longer.
"Trying to lock down the right combination of tracks is hard because a lot of clubs have issues with water," said Mel, "but we've had heaps of interest from riders and also heaps of enquiries about sponsorship."
In the last two years the WoW series numbers have grown massively, from a max of 87 riders in 2018 to 147 last year.
"People like the two-day format with a guaranteed 3pm finish time on Sunday to allow everybody to get home in time, which tends to mean everybody stays for presentation" said Mel. "Plus, obviously many girls like riding in all-female races with other girls in a graded comp."
……………………………………………………………………………………………………………………………….
Count them, 3 MX Nationals Rounds!
As if to underline that Queensland is indeed the place for motocross in 2020, three MX Nationals rounds are headed this way this year. The first two will bracket the mid-season break, with round five returning to Gympie on May 24, and round six at Conondale a little over a month later.
Finally, the series returns to Coolum for a double-header finale on August 22-23.
So the bottom line is, throw a leg over, grab a handful and send it big, because 2020 is the year for motocross in Queensland!