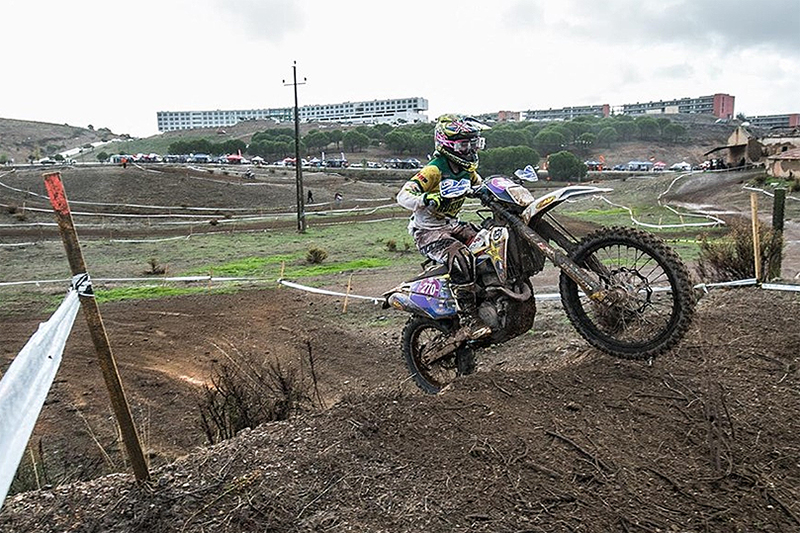 The completion of day three of the 2019 FIM International Six Day Enduro ISDE, has marked the official half way point of the 94th edition of this prestigious event. RecoveR8 Team Australia now currently sit in second position in the World Trophy Standings, with the Women's Trophy Team climbing to second after their first win of the event. The Junior Trophy Team continue to lead the worlds best, maintaining first overall.
Day three presented the riders with a new set of special stages on the Monchique Challenge Route, taking them deep into southern Portugal's highest mountain range, completing six Special Tests and a total of two-hundred and sixty-six kilometres to be covered. Early morning drizzle set in progressing to heavy rain for most of the day in the hills and riders had to adapt quickly to very slippery conditions at a sharp contrast to the opening two days.
RecoveR8 World Trophy Team
With day three concluding, RecoveR8 Team Australia experienced their first challenging moments of the six day event and although Daniel Sanders once again took the win in E3 and Outright for the day, Australia finished second to the USA by two minutes. In the ISDE World Trophy, Australia is now in second position, just one minute minute twelve seconds behind the USA. Josh Green would come home in 9th position for the day in E2 and twenty fourth outright, whilst Matthew Philips had a trying day in the slippery conditions ending up seventeenth in E2. Luke Styke continued good form in E1, but was also unable to match his stellar performance from yesterday, ending up in twelfth outright and 7th position in E1.
Daniel Sanders commented to Motorcycling Australia on the days events:
" Unfortunately I got caught up in the opening test with some fencing and also a fall, so I lost a little bit of time there. But after that I found good speed and came back to win the day. I think the conditions being so smooth didn't really suit us today, but tomorrow we are back out on the same tests and they will be rougher so hopefully that plays into our skillset more and we can get some time back from the USA".
RecoveR8 Womens World Trophy Team
The RecoveR8 Women's Trophy Team again progressed from their opening two days performances, capturing their first win of the 2019 ISDE on day three, besting the USA by seven seconds. Moving into second place in the Women's Trophy standings, it was a positive day for Team Australia, despite Makenzie Tricker having to withdraw from the event. This now means that both Tayla Jones and Jessica Gardner's scores will count towards the Women's Trophy, as the event format is the best two riders results only contribute to the Trophy standings. Tayla Jones had another standout day riding to third overall, winning the second test and remaining in the top three positions through tests three to seven. Jessica Gardner would finish sixth overall, with a day best fifth position in the fourth test.
Tayla Jones had this to say to Motorcycling Australia at the conclusion of day three:
" Today was a better today as we had new tracks. I personally liked the conditions and the tracks being more open I think it suited me. My times were a lot closer to winning and I'm happy about that. Jess had a good day also and we moved up in the standings, so hopefully we can keep pressing forward for the rest of the week."
RecoveR8 Junior Trophy Team
The RecoveR8 Junior Trophy Team continued on their excellent form on day three with another victory over the USA. Lyndon Snodgrass would finish a remarkable fourth in E1 and ninth outright for the day, as Fraser Higlett would and Michael Driscoll would finish fifth and 9th respectively in E2. The RecoveR8 Junior Trophy Team now lead the USA by over four minutes in the overall standings heading into day four tomorrow.
Day four of the FIM ISDE will see competitors battle another loop of the two hundred and sixty-six-kilometre-long Monchique Route.
RecoveR8 World Trophy Team
Joshua Green
Matthew Phillips
Daniel Sanders
Luke Styke
RecoveR8 Women's Trophy Team
Jessica Gardiner
Tayla Jones
Mackenzie Tricker
RecoveR8 Junior Trophy Team
Michael Driscoll
Fraser Higlett
Lyndon Snodgrass
Stay tuned for more coverage over the coming days of the 2019 ISDE from Portugal as both our Trophy and Women's Teams fight to defend their 2018 ISDE Championships! You can stay up to date by following the Motorcycling Australia Facebook and Instagram pages via our posts and stories, along with visiting our website throughout the entire event.