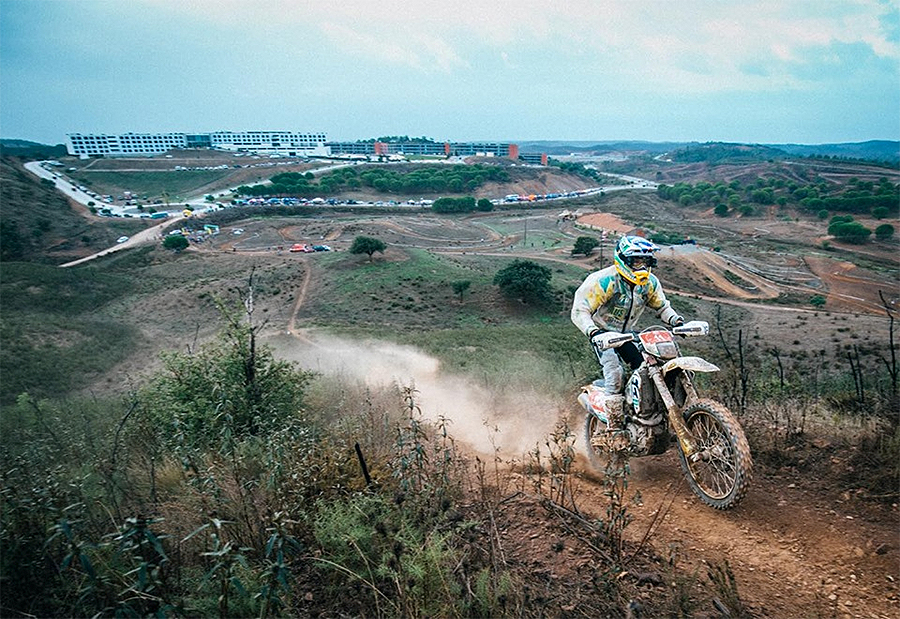 Pushing past the half way point with day four of the 2019 FIM International Six Day Enduro ISDE now in the books, RecoveR8 Team Australia have kept their hopes of defending their World Trophy title alive, currently trailing the USA by a narrow margin sitting in second position. As the Junior Trophy Team continue to dominate at the top of the ladder, putting more time on their competition in another emphatic victory, disaster would strike in the Women's Trophy Team as Tayla Jones would be forced to retire from the event.
Day four presented the riders with a repeat set of special stages on the Monchique Challenge Route, taking them deep into southern Portugal's highest mountain range, completing six Special Tests and a total of two-hundred and sixty-six kilometres to be covered. With heavier rain in the mountains and stronger winds, riders had to adjust to far more difficult conditions than the previous day in a true testament to what the ISDE is all about as day four provided everything from wet and treacherous mountain trails to windy and dusty tests.
RecoveR8 World Trophy Team
With day fours action coming to a close, RecoveR8 Team Australia put in a spirited effort to keep the USA in their sights at the top of the world trophy standings. After finishing a strong second on the day, just fifteen seconds behind the USA, Australia now trail by one minute and twenty seven seconds in the overall standings, meaning a flawless final two days is neccessary to keep the pressure on the USA in an attempt to successfully defend the 2018 ISDE Crown. Daniel Sanders would again dominate proceedings with both the E3 class win and Outright win, Sanders now leading the individual Outright standings by a huge six minutes and twenty five seconds. Luke Styke would field a far stronger finish on day four, finishing in 4th position in E1 and landing in the top ten outright with tenth position. The E2 duo of Josh Green and Matthew Philips would finish in sixth and seventeenth position respectively, with Green posting sixteenth outright on the day.
Daniel Sanders commented to Motorcycling Australia:
" I had one crash in test three and other than that I had no problems, it was another great day for me extending my outright lead. The World Trophy is still within our grasp and we ned a flawless final two days to make it happen!"
RecoveR8 Womens World Trophy Team
In a disastrous day for the RecoveR8 Women's World Trophy Team, Tayla Jones was forced to retire from the event on day four with a concussion. With the previous days retirement of Makenzie Tricker, this now puts an end to the Australian Teams unbelieveable reign of six ISDE Championships in a row as the team will no longer factor into the Women's Trophy standings. The sole Australian rider remaining, Jessica Gardner, will continue with the event riding for individual placings, Jessica placing fourth Outright on the day and currently sitting in 4th in the Women's Trophy standings.
RecoveR8 Junior Trophy Team
The RecoveR8 Junior Trophy Team continued to demonstrate their dominance on day four with another fantastic showing, winning the days proceedings by four minutes and and eight seconds, helping to establish their overall lead to a margin of eight minutes and fifty two seconds. Lyndon Snodgrass would place an incredible eighth outright on the day and second in E1, as Fraser Higlett would also continue his impressive form with fourth position in E2 and eleventh outright.
Lyndon Snodgrass spoke with Motorcycling Australia, commenting on day four:
" I had a great day, ending up inside the top ten outright. The other members of the team also rode great and we extended our lead in the Junior Trophy. The tracks were brutal today to say the least so it was good to get through and have a sold result".
Day five, the penultimate day of the FIM ISDE, sees competitors tackle a new course. Crossing the Barocal, which takes place to the south west of the Algarve region and will be characterised by gravel and rocks and will feature two hundred and eighty-five kilometres of riding.
RecoveR8 World Trophy Team
Joshua Green
Matthew Phillips
Daniel Sanders
Luke Styke
RecoveR8 Women's Trophy Team
Jessica Gardiner
Tayla Jones
Mackenzie Tricker
RecoveR8 Junior Trophy Team
Michael Driscoll
Fraser Higlett
Lyndon Snodgrass
Stay tuned for more coverage over the coming days of the 2019 ISDE from Portugal as both our Trophy and Women's Teams fight to defend their 2018 ISDE Championships! You can stay up to date by following the Motorcycling Australia Facebook and Instagram pages via our posts and stories, along with visiting our website throughout the entire event.