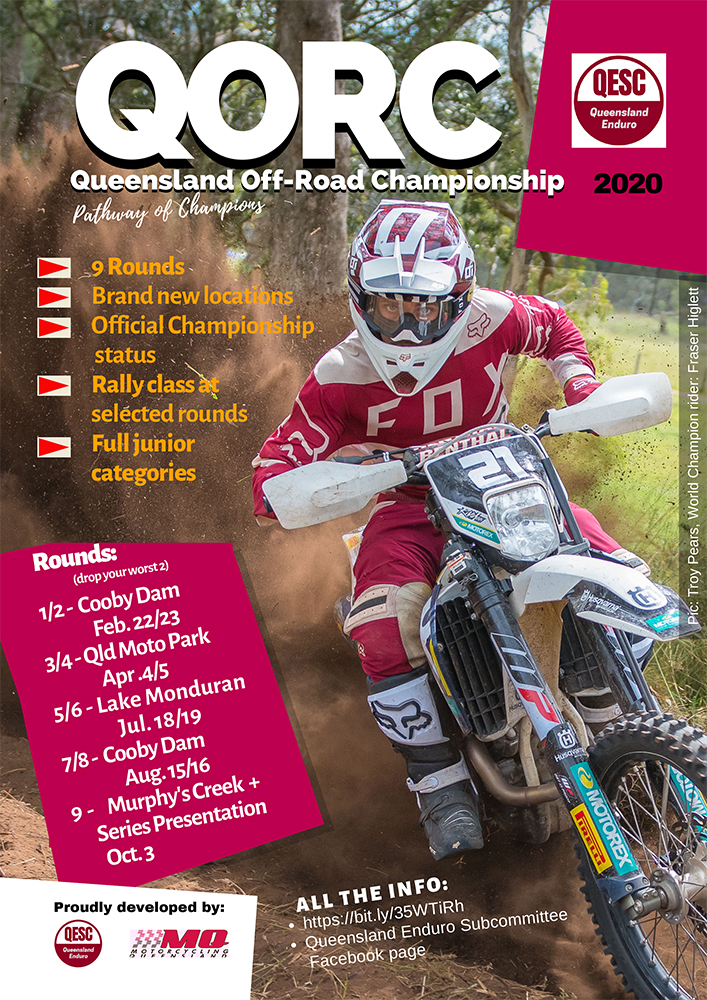 The Queensland Off-Road Championship is set for a huge year in 2020 with the announcement of an exciting nine-round series designed to separate the best from the rest.
Developed by the Queensland Enduro Subcommittee of Motorcycling Queensland, the series will give the sport a welcome shot in the arm with an expanded new-look series which stretches from February through to October.
The series will be fought over five weekends and four different battlegrounds – providing a variety of different challenges – while competitors will be able to drop their worst two results.
"Queensland has produced an inordinate number of the world's best motorcycle racers," said QESC member Nathan Bond, "and we're motivated to continue this by offering an off-road series that will satisfy our best racers, while growing the grass roots and junior elements of the sport."
"We'll have a Rally class at all rounds – barring the opening weekend where we'll share with the Australian championship – as well as full junior categories and three locations that have never been used for QORC before," he continued.
"It's very exciting, and during our planning there's been a groundswell of interest from sponsors, landowners and even local government."
The series will burst into life on February 22 at Cooby Dam, and the series coordinators have designed a layout tailor-made to showcase the action to spectators.
"We want as many spectators as possible to come check out the action," said Nathan, "there's a gold coin 'donation' required which will go 100% towards cattle feed for the landowner, who is fighting his own battle with the drought.
The nine-round series includes:
Rd. 1/2 Cooby Dam, February 22/23
Rd. 3/4 Qld Moto Park, April 4/5
Rd. 5/6 Lake Monduran, July 18/19
Rd. 7/8 Cooby Dam, August 15/16
Rd. 9 Murphy's Creek + Series Presentation, October 3

To enter: http://www.queenslandenduro.com.au/
Contact number:
Nathan Bond, QESC
Ph: 0437 830 631 E: qldenduro@mqld.org.au