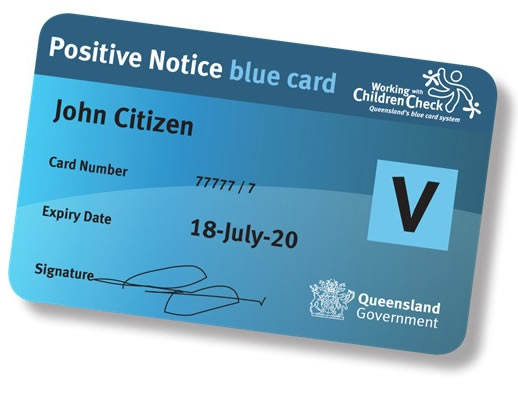 Is your organisation ready for the new blue card laws?
New blue card system laws will take effect from Monday 31 August 2020.
It is important that organisations engaging people (volunteers or paid employees) in child-related work know about the changes that are coming and prepare for them.
Our records show that you are a contact person for one of these organisations. If you are no longer in that role, please contact us so that we can update our records.
No Card, No Start
In the past, paid employees have been allowed to start working with children while their blue card application was being processed. The new laws mean that, from 31 August 2020, paid workers must have a blue card (not a pending application) before they can work with children.
Volunteers, trainee students and people operating a business are already subject to No Card, No Start laws.
If your organisation employs blue card holders, this means that you will be prohibited from employing a person in child-related work unless:
• the person holds a valid blue card and
• you have linked the person's blue card to your organisation.
Changes to the application process
To support the introduction of the No Card, No Start laws, there are new online services available:
• people will be able to apply for their blue or exemption cards online
• organisations can manage their blue card records more easily through the Organisation Portal.
Anyone who can't access the online systems can still apply using paper forms. New paper forms will be available on 31 August.
Other changes to the law
Renewals
Currently when a volunteer, student or business operator renews their blue card 30 days before their actual expiry date, we allow them to continue to work—even if we haven't issued their new blue card by the time their previous card expires.
From 31 August, card holders will be able to continue to work in paid employment, volunteer, run a business or undertake a student placement as long as they submit a renewal application before their current card expires.
If a card holder does not apply to renew their card before it expires, they will be subject to the No Card, No Start laws and will not be able to continue work until a new blue card has been issued.
Exemption cards
Another change is that exemption cards will now expire after 3 years. From 31 August, new exemption cards will also carry a photo of the card holder.
Existing exemption cards will remain valid until 31 August 2023 and can be renewed at any time until that date. If they are not renewed, they will be cancelled.
Exemption card holders can start working with your organisation as soon as you have linked them to your organisation.
Changes in criminal history
From 31 August, card holders will not be required to tell their organisation if there has been a change in their police information, and organisations will no longer need to tell us. Instead, card holders and applicants must immediately tell Blue Card Services or risk a maximum penalty of $13,345.
We will continue to notify organisations of a change in police information, where appropriate.
Restricted persons and restricted employment
The new laws will restrict certain people from relying on current exemptions to work with children, in some circumstances.
In addition to the existing penalties for individuals, it will be an offence for a 'restricted person' to start or continue in 'restricted employment'. It will also be an offence for an organisation to employ or continue to employ a 'restricted person' in 'restricted employment' if they know (or should reasonably know) that they are a restricted person.
Find out how this could affect your organisation on our website.
New frequency test
After 31 August, people won't need a blue card if they don't work or volunteer with children for more than 7 days in a calendar year. If the child-related work is more than 7 days, they will need a blue card.
There is no minimum frequency for people who run a regulated child-related business.
The 7-day frequency test will replace all other frequency tests. Find out more about the frequency test.
Requirement to keep notices
In the past, all card holders were required to keep the positive notice letter that came with their card. From 31 August, this will no longer be a requirement.
Better security
People who apply after 31 August 2020 will be issued with a card with their photograph on it. This will add an extra measure of security to each blue or exemption card.
We're also changing the way we confirm the identity of people applying for blue and exemption cards. Until now, organisations have been responsible for checking and confirming the identity of applicants. From 31 August, we will confirm an applicant's identity through a service with the Queensland Department of Transport and Main Roads.
If someone joins your organisation and they already have a card, you will still need to satisfy yourself that the person in front of you is the person on the card. For example, you could check the photo on the card against another form of photo ID.
Transition arrangements
Applications in process
There are transitional provisions for people who submitted applications before 31 August 2020 that are still being processed when the new laws commence. Those applications will be processed under the previous laws. This includes a paid employee with a pending application.
Existing cards
Even though the new cards will include a photograph, existing blue cards (without photos) will still be valid until their expiry date, unless they are otherwise suspended or cancelled, for example, due to a change in police information.
Support for organisations
We are here to support you through the changes to the blue card system.
Next week, you will see an advertising campaign, plus lots of information coming your way via our website and enewsletters.
If you have not already subscribed to Blue Card News, now is the ideal time!