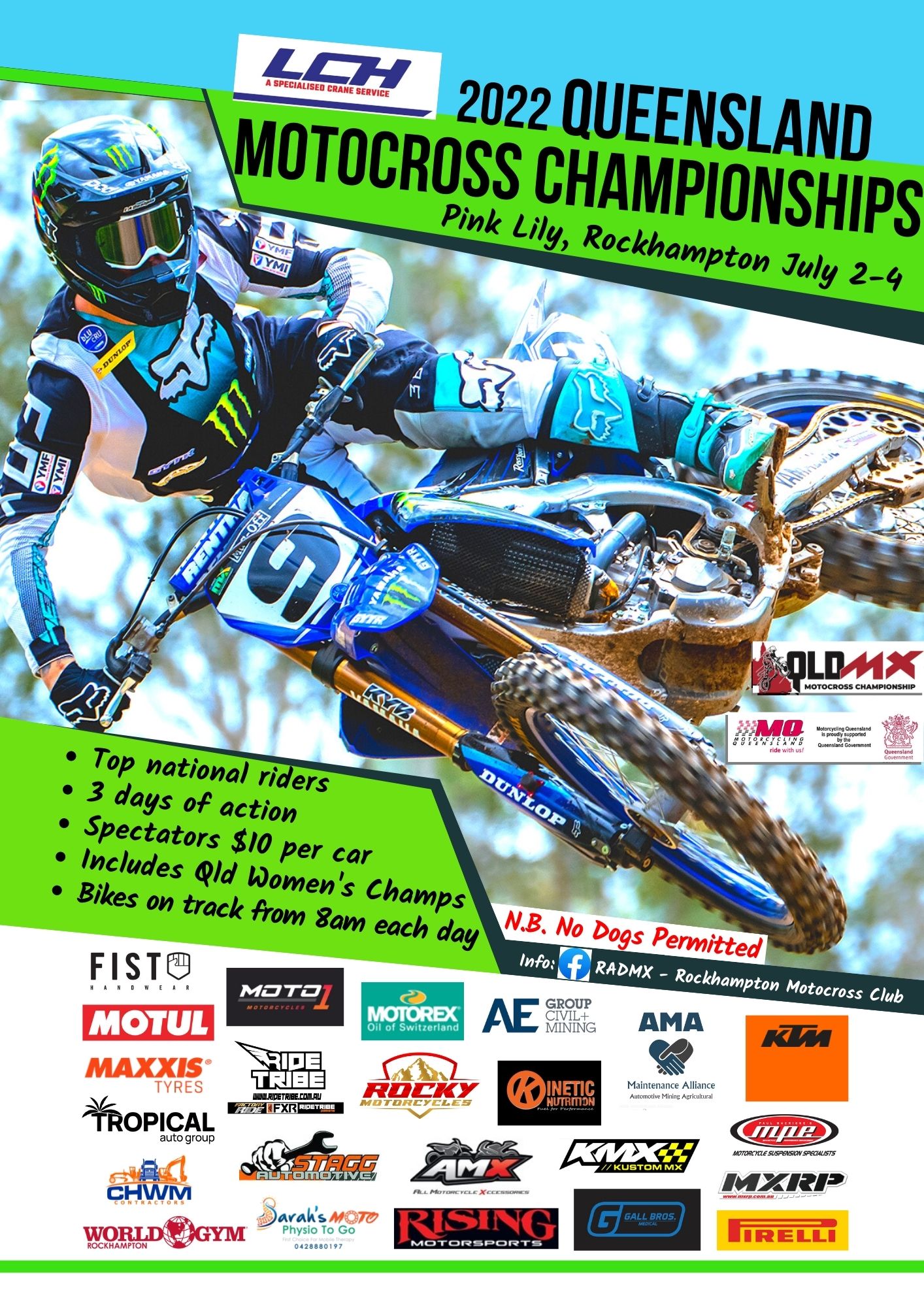 Event Organisers of this year's LCH Queensland Motocross Championship are determined to reclaim the title's rightful position as the premier tier of motocross racing in the state, with a new look for this year's battle for the maroon plate.
Organisers have consolidated the event into one all-in, three-day epic at the popular Rockhampton racetrack at Pink Lily from July 2-4.
A new, long weekend format consolidates 5 championship races into one trip to reduce both travel time and time off work for the non-professional riders who have to get back to work/study.
They've also shaken every tree to deliver a sizeable $26K prize pool which pays both premier (MX1) class and MX2 class winners a $3K winner's cheque, with cash paid back to 10th for seniors and 5th for juniors, as well as to the top-three Expert and Clubman grade finishers in the pack.
"For those riders who want the opportunity to prove that they're in the top 40 fastest motocrossers in Queensland," said John Gierke, from the Qld MX Subcommittee, "this is the time, and the place."
"Rocky is one of the most popular venues we have for great racing and plenty passing opportunities, and with the School Holidays and the Mackay Beach Races the week after, there are a few opportunities to make a more fun trip out of it!"
"Spectators should also really enjoy the one-on-one shootouts," continued Gierke, "where the top six qualifiers in MX1 and MX2 race two-at-a-time until there is just one remaining."
Almost all the top guns of Australian motocross are entered, including the likes of Honda's Dean Ferris, KTM pilot Kirk Gibbs and rising Yamaha Superstar Aaron Tanti.
The other exciting feature is the inclusion of the Queensland Women's MX Championships into the weekend, where the state's fastest senior females will get to strut their stuff.
Spectators will get the chance to see 17-year-old Charli Cannon, the Maroochy River rider who has dominated the best female riders in Australia after two rounds of the Women's Nationals, in what is her rookie senior year.
Tickets are available at the gate, and for more information, visit the RADMX – Rockhampton Motocross Club Facebook page. The MX Subcommittee thanks the host club, and every sponsor that has come together to make this the best Queensland Champs ever.