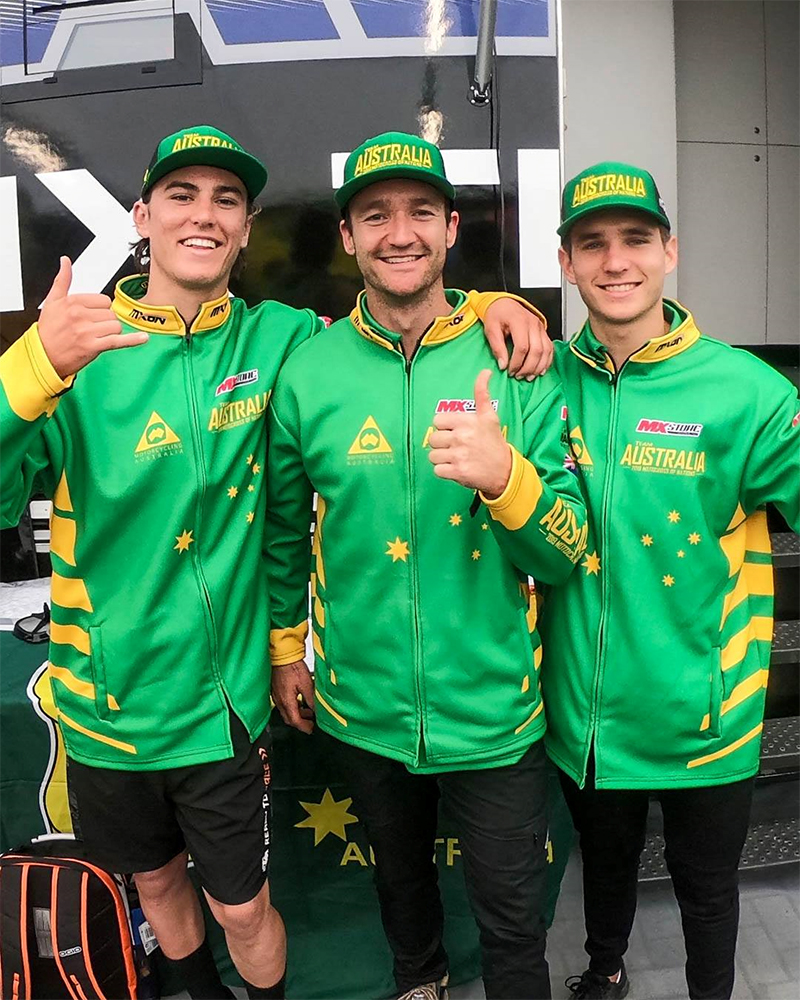 Team Australia have pushed through in tough conditions in Assen to finish in fifteenth position in the world, they raced and fought hard the whole weekend and went from tenth to fifth at the beginning of the final race and then due to mechanical failures on both bikes slid back to fifteenth in the third and final race.
MXstore MXoN Australian Team represented by Dean Ferris (KTM), who made his sixth appearance, and Western Australian's debutants Kyle Webster (Penrite Honda) and Regan Duffy (Raceline Motorsport) put on a show to take a glimpse into the future.
Individually Ferris finished in thirteenth (MXGP), Duffy in tenth (Open) and Australia's highest individually Webster in seventh (MX2).
Despite a rainstorm that lashed the white sand of Assen, thousands were in attendance with the stands of the TT-circuit filled with loud cheers and colours of the national flags. The atmosphere was incredible as 20 nations battled it out for pride and glory for their home country as well as the highly sought after Chamberlain trophy.
Team Netherlands' Coldenhoff with a 1-1 score for the second year running, Herlings with 2-4 and Vlaanderen with 10-10 that saw them cruise to their win on home soil with 18-points (taking out the worst score of tenth).
Qualifying
On Saturday 28th of September qualifying kicked into gear and so did our Aussie boys and each of them were able to qualify inside the top ten. Ferris aboard his KTM 450 in the MXGP class had a fantastic start and as the heavens opened the heavy rain came down in Assen. He managed to come away with a tenth with no goggles and getting absolutely peppered by the sharp imported sand.
Penrite Honda mounted Webster kicked off his MX2 Qualifying in style almost grabbing the hole shot from Justin Cooper and running in second for a few laps. He was relegated back to third battling away and that is where he finished, the highest in qualifying of the three Aussies.
17-year-old Duffy, who was a late inclusion for the team got off to an amazing start as he entered the first couple of corners and solidified his place in third. A few laps in, Duffy had a few incidents although picked the bike back up and got going to finish sixth ahead of some of the world's best.
MXGP/MX2 Race (one)
Ferris, started off strong with both and he and Webster sitting inside the top ten. Although Webster's bike got stuck in the mud and he dropped back in the field to sixteenth place. Ferris went down and dropped to ninth place and held onto finish in fifteenth with Kyle not too far behind and record 23rd for his debut race of the MXoN.
Open/MX2 Race (two)
It would be Duffy to just finish outside the top ten in eleventh place on his debut in the world stage after having to settle, Webster just over 21 seconds behind Duffy was able to better his race one spot achieving fourteenth position and lifting Australia to fifth in the overall team standings with one race remaining.
MXGP/Open Race (three) Heading into the third and final race Australia sat in fifth overall although due to mechanical failures on both bikes Ferris would finish in thirtieth and Duffy in thirty-third place.
Dean Ferris: "It wasn't the result which we were after. We were really close to a podium. However, we had a double DNF. Reagan and I needed a top ten finish to make that happen. We got a bad start, but anyway."
Kyle Webster: "Unfortunately it wasn't the result which we were looking for, but the boys had a good go and I can't thank them enough for helping me to get here."
Regan Duffy: "Massive thanks to everyone. I tried my hardest but the bike didn't end up making it. Awesome riding by both Dean and Kyle. This weekend has been the greatest experience of my life.
Motorcycling Australia would like to thank the whole team for their efforts on the world stage and are keen to see what the future holds with our riders doing their country proud. MA would also like to thank naming rights sponsor MXStore, Team Manager Michael Byrne, Assistant Gary Benn and all of the riders, mechanics and official team support RACESAFE."
Images: MXStore & MXGP