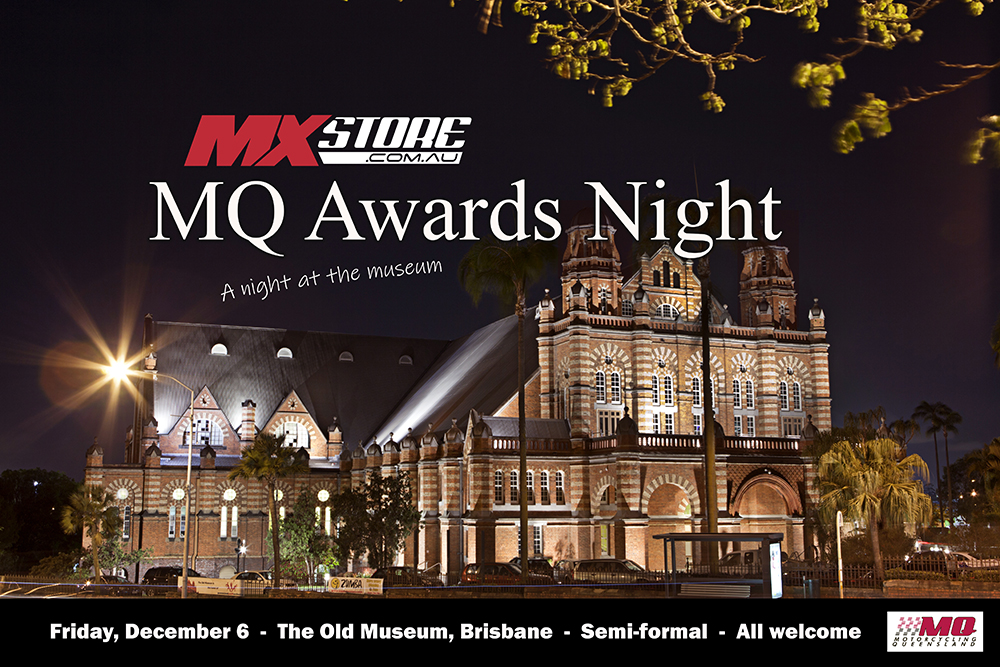 Motorcycling Queensland is pleased to the continuance of its relationship with motorcycle gear and accessory retailer MXstore as Naming Rights sponsor for the 2019 MQ Awards Night.
The MXstore MQ Awards Night will take place on on Friday December 6 to celebrate Queensland's outstanding riders, officials, coaches and clubs for their contribution to the sport during the preceding 12 months.
MQ General Manager Kim Rowcliffe was thrilled to see MXstore back for its third consecutive year as naming sponsor. "MXstore is Australia's largest online dirt bike gear, parts and accessories store with a reputation as a team that lives and breathes the motorcycle lifestyle, so it's a perfect fit for the MXstore MQ Awards night. We look forward to working with their team once again, and we look forward to seeing as many as possible of you there."
The MXstore MQ Awards Night regularly attracts 250 – 300 people as it recognises the achievements of all motorcycling disciplines, and is a celebration of the year in motorcycling all over Queensland.
The 2019 event will be held at Brisbane's iconic "Old Museum", a heritage-listed performance venue located at 480 Gregory Terrace, Bowen Hills.
Throughout the night guests will enjoy canapes and light entertainment, while some of the major categories that will be recognised on the night are Senior and Junior International Rider of the year, Club of the Year, Event of the year and Coach of the year.
A special feature of the event is the after-dinner Question & Answer panel consisting of several motorcycle identities and personalities.
Motorcycling Queensland currently licences 136 coaches, 775 officials and 4608 riders. We permitted 1629 events and had over 53,577 riders participate in these MQ affiliated events in 2018.
Tickets go on sale shortly, and more sponsorship packages are still available, so if you'd like to be a part of the evening, contact events@mqld.org.au