"I enjoy being an official simply because I like being involved and I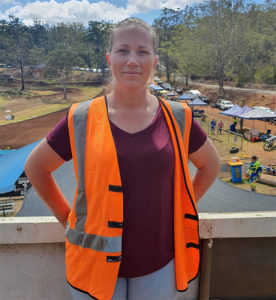 'm setting an example to my own children," says Kelsey Short, recipient of the Official Review Board's Official of the Month Award.
A home delivery driver from Toowoomba, Kelsey holds Level 2 Clerk of Course, Race Secretary and Level 1 Coach qualifications.
Being from up on the mountain, her regular stomping turf is the famed red and brown clay of Echo Valley raceway, but her favorite memory as an official is flagging for the Toowoomba Australan Supercross Championship round a few years back.
"I'm in the process of learning Enduro at the moment, through Toowoomba Motorcycle Club. Nathan Bond has taken me under his wing and he's pushing to step up to a Level 3."
We asked Kelsey what she means by setting an example to her own children. "At Echo Valley my kids often help out in the canteen when we're busy – which is awesome for their maths skills! – but I like to show them what community spirit is and encourage them to get involved as well."
Congrats Kelsey!