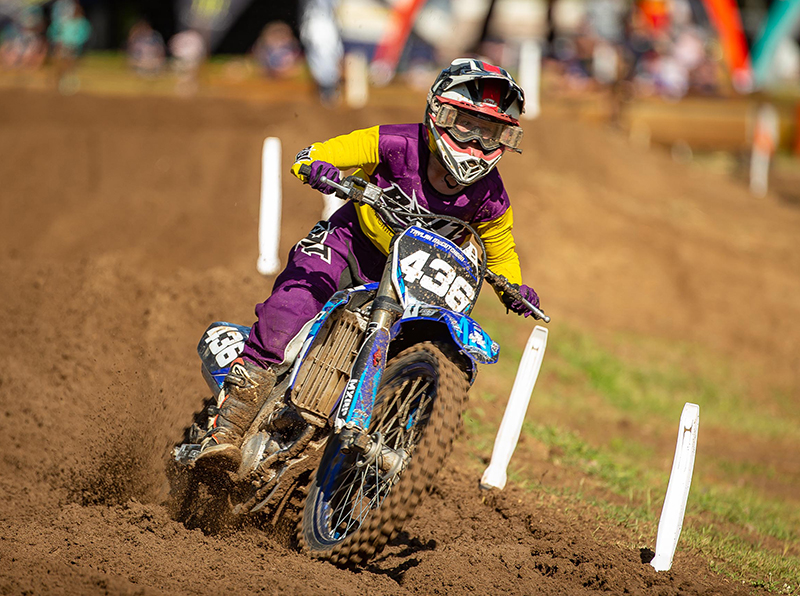 Former Aussie Junior Champ Taylah McCutcheon is excited to ride her first senior Queensland Motocross Championship this weekend, after a stunning recent senior MX debut in Rockhampton less than a fortnight ago.
At the King of Capricorn event the 16-year-old Yamaha rider won every Women's race, took out the MX2 support class against the males, and qualified for the main event which included some of the fastest professional riders in the country.
This weekend's Comisky Mining Services Queensland Female and Veteran Motocross Championship at Bernaraby, Gladstone will be McCutcheon's first senior state title, and the Cornubia resident is as keen as a bean.
"I feel really good coming into this race," said McCutcheon. "I probably gained a little more confidence from last weekend, where I was lucky enough to come out on top in both classes. It was good racing the ladies as well as the aggressive boys on the same day – in the past the only time I've gotten to race a pure female class was at the Aussie titles.
"I've just got to work on my starts though," she continued. "It's hard off the line against Tahlia's 350! Other than that I'll just keep working on what I work on weekly, and I'll go there, do my best, and hopefully come out with the result that I want."
Twenty-two women from all over Queensland have already entered the main event, including defending number one Tahlia Drew and home-town ace Kirra Baxter who finished third in this year's Sunny State series.
In addition, A grade racers like Britney Boyce and WoW series winner Hayley Miller will battle rising talents the likes of Abbey Morrice, Riley Carvosso, Kayla Maher and Emily Bailey.
To make matters even more interesting, there'll be at least three headlights in amongst the regular MX number plates, with top-ranked Queensland enduro racers Ebony Nielsen, Zoe Boccari and Charlotte Gamble all entering the fray on enduro bikes.
For more information, visit the Gladstone District Dirtriders Club Inc. on Facebook.