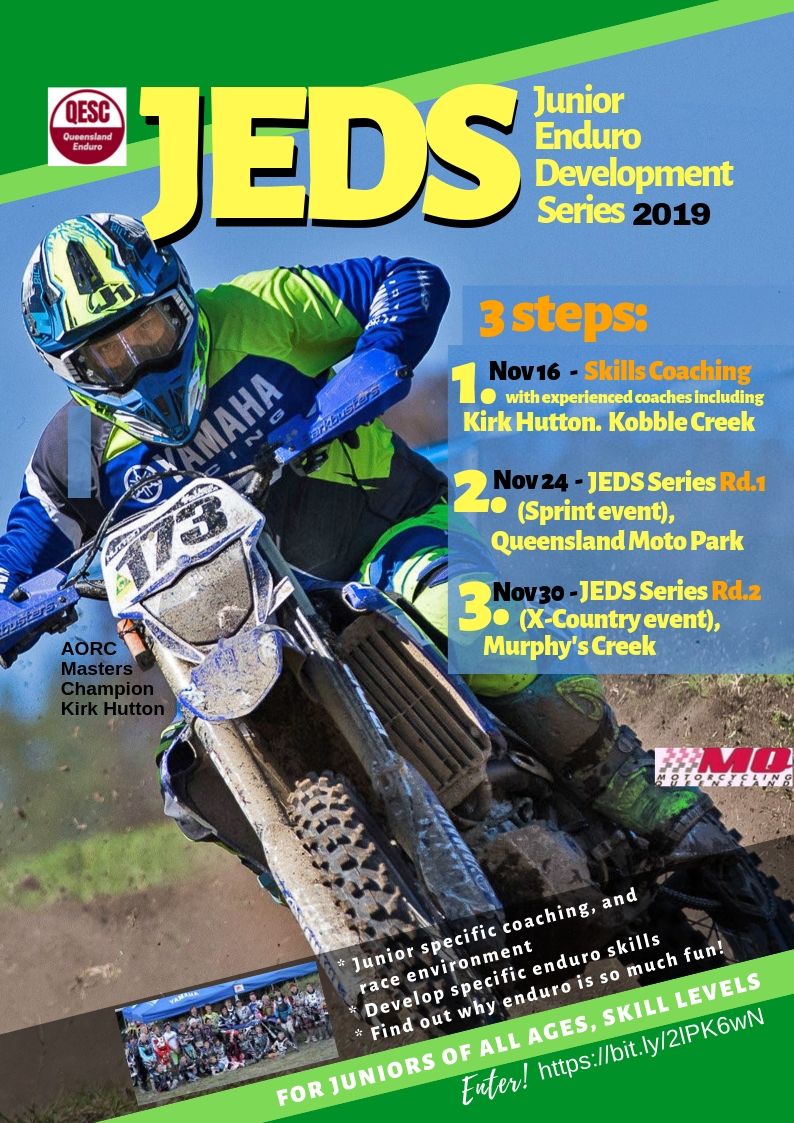 The newly-announced Junior Enduro Development Series (JEDS) is a series of junior-only Enduro activities within 90 minutes of Brisbane, across three weekends in November 2019.
With an enduro-specific coaching day and two race weekends, the series is a prime opportunity for potential new enduro participants to give racing in the bush a try, and an exclusive competition opportunity for existing junior enduro pilots.
The three-part series includes:
November 16 – Coaching at Kobble Creek
November 24 – JEDS Series Rd.1 (Sprint event), Queensland Moto Park
November 30 – JEDS Series Rd.2 (X-Country event), Murphys Creek (followed by a JEDS presentation evening at clubhouse at Murphys Creek)
The program:
Part One is a JEDS coaching day under 2019 AORC Masters Champion Kirk Hutton and a num-ber of other experienced Enduro riders/coaches at the idyllic Kobble Creek training venue. Here, coaches will develop enduro skills in participants from other disciplines (e.g. MX, Dirt Track and Trials riders giving Enduro a go), while upskilling existing junior enduro riders.
One week later it'll be time to race. Queensland Moto Park will host the first JEDS Race Series event on Sunday the 24th – a Sprint format event to give youngsters a chance to strut their stuff on a purpose-designed circuit.
The following Saturday is the JEDS finale – a X-Country event at the same Murphys Creek block the AORC ran on (but not necessarily the same tracks!). Hosted by the Toowoomba Motorcycle Club, this race will be followed by a JEDS presentation evening at the club's Murphys Creek clubhouse. It's a sweet place to camp too, coincidentally.
The first JEDS event, the JEDS Coaching Day on Saturday November 16 is already set-up on Ridernet, enabling riders to enter immediately. With an interesting riding location, experienced coaches and lunch in to the bargain, the JEDS Coaching Day represents incredible value at just $25!
*Supplementary Regulations and event entry details for the 2 round JEDS Series will be distributed at the end of September.