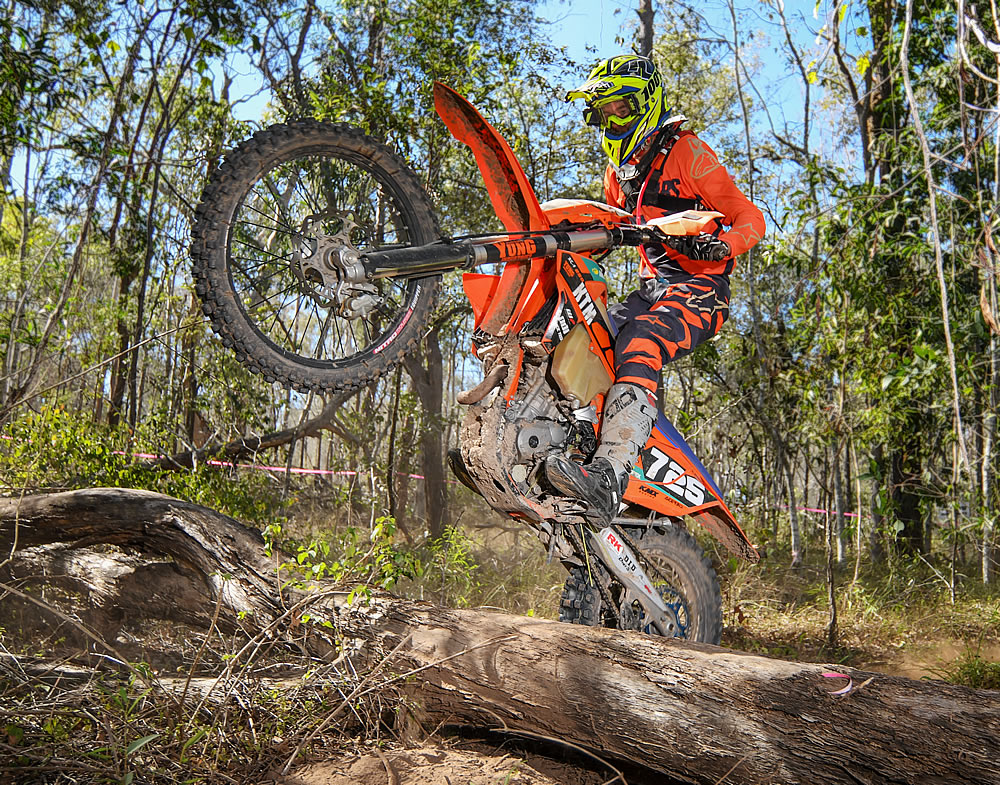 A one-time A-grade motocrosser and nationally ranked mountain bike downhiller, and current off-road racer now making a name for himself as a skilled and thoughtful coach, Mal Dalton compiled his thoughts from the weekend's JEDS (Junior Enduro Development Series) training and race simulation event at Tivoli.
It was only a couple of weeks ago that I got a call from Simon at MQ, asking if I would like to be involved with a JEDS weekend at Tivoli. Without hesitation I said "yes", because being involved with upcoming junior enduro riders here in SEQ is an absolute pleasure!
It was a bit of a fresh start to the weekend, rolling into Tivoli at 7am on Saturday morning, but I was greeted by several families who were already camped down in the main pit area.
At our 8am muster we called the riders and families in and had a bit of a chat about the format for the day. Queensland Enduro Subcommittee's Nathan Bond and Simon explained that they had planned a 3-hour simulated cross country event for the kids to train on.
I had a bit of a chat to the kids about how to manage yourself on a race day, with the key points being nutrition, hydration, and the importance of an interactive pit crew. It was encouraging to see the good reception from the parents as I emphasised the importance of their role in any race program.
Another focal point I offered was the benefit of having a game plan prior to a race – e.g. how many laps will you do prior to a break, how much effort you plan to exert, and how much to drink and when.
Following the discussions we ventured out for a track walk and open question time. Track conditions were a bit thick and muddy on the mx track so we discussed a few line options to avoid the mud.
Once we hit the trees and single track, I pointed out the risk versus reward concept the riders facing with tricky obstacles. Do they take the high risk option and maybe gain time (or potentially lose it), or opt for the safer route and complete the event. Again all riders were interacting and taking mental notes.
A little trick a lot of riders including myself use is to identify clear track markers, like a cactus in front of a tree I called "cactus tree", shortly after this point the track turned sharp left, educating the crew on how to make these mental marker points to maintain focus on their riding and identify the tracks obstacles.
Track walk done, it was time to gear up and head to the starting line for a sighting lap.
As this event was all about exposing riders to a wide range of things they might encounter in an off-road event, Nathan surprised the riders by starting the sighting lap with a LeMans start! Down on their tummies they all dropped, then sprung to their feet for a sprint to their waiting motorcycles, which was fun to watch!
Sighting lap done, there was time for a quick drink then back to the line for a traditional cold start cross-country. The older kids took off first, followed a minute after by the younger riders.
A full 3-hour ride just did not phase these enthusiastic juniors!
I walked the track, watched the riders, went thru the pits, chatted with parents, and offered encouragement at every opportunity. Three hours passed, and riders were signaled to return to the pits. The day was done.
The riders had completed their first 3-hour ride, as closely as possible to an actual race event. I wandered around the pits and met with nothing but smiling faces from both riders and families.
It was satisfying to see riders of all levels from near beginner to highly talented junior riders, including several of the older junior boys who showed fantastic potential. I was equally impressed with the two female riders – Zoe Pryor and Fynleh Duncombe – mixing it up on a challenging track for the duration, well done to both and congratulations to the parents for getting the girls on board!
I was only available for the Saturday, and I was exhausted already so I'm not sure how these kids backed it up for Sunday!
The formation of the JEDS program by Nathan Bond and Simon Wadwell is such a positive venture by MQ and will surely only assist to develop this great family-oriented sport. We have riders that are capable of becoming champions, and this is encouraging. I am excited to be involved and thank MQ for the opportunity.
See you at the next JEDS!
Mal Dalton.
Thanks to Troy Pears for the great action pics