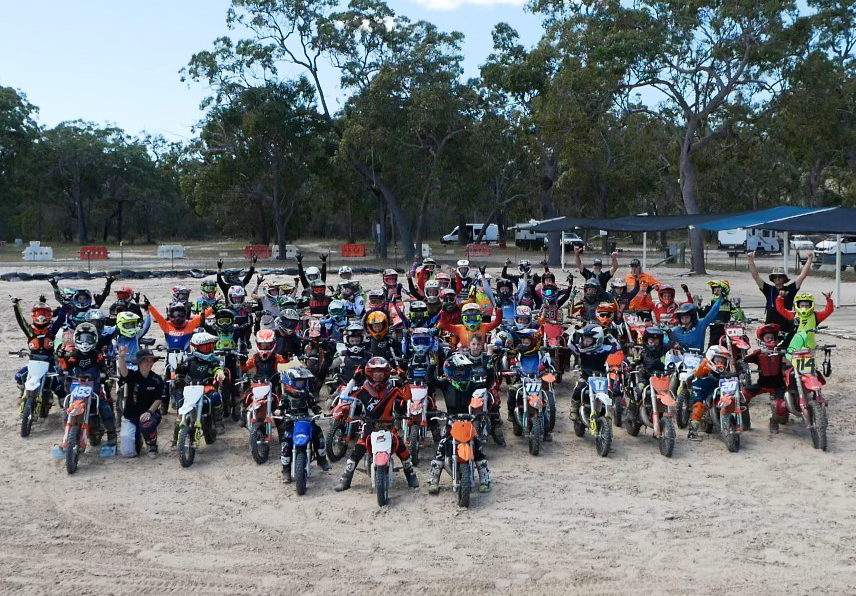 There were smiles for miles as the Inaugural JMX Development Day Hervey Bay roared into life at the , Hervey Bay MX club's Dundowran Park.
Sixty 60 riders took part in Saturday's coaching event, with the range of students
stretching from Peewee riders right up to podium finishers from this year's Qld Motocross Championship.
Saturday's coaches were an eclectic mix that provided huge value, and included; Aussie Champ Dean Ferris, Darci Whalley, Kirra-Lee Baxter, Simon Wadwell, Frank Tate and Chris Ordorico (in Training).
Nine Kick-start courses were done, as well as two licence upgrades.
Sunday's racing day attracted 76 riders (90 nominations) and included 9 novice riders.
Two Officials gained hours to be signed off, one as Race Secretary and the other as a Clerk of the course, while one coach gained enough hours to meet requirements for his Level 1.
Event Organiser Frank Tate was overjoyed with the weekend as a concept; "Thanks to Hervey Bay MX club for taking on the first of its kind. The weekend was a huge success with plenty of positive feedback, so, a massive thank you to all those that came, and the volunteers who made it happen.
"We found a few things to work on, including the timing of the day, and we were unable to fit in some of the stuff we had planned for Saturday such as bike set ups, body fuelling etc.
"It was great to have MQ operational team Simon Wadwell and Kelly Baxter along.
"At this event we were able to get the kickstart students into the system along with the kids that had upgrades, and this allowed them to face their first gate drop or race a class up on the Sunday.
"All of MQ's affiliated clubs have the same opportunity to hold and run a Junior Motocross Development Program (JMXDP) event such as this one, so if this is something you want to see at your club, reach out to you club committee and ask how to help make it happen.
"We'd like to thank our valued sponsors including; MX Store, Hostile Handwear, MXRP, Kinetic Nutrition and Mixed Media Crafts."