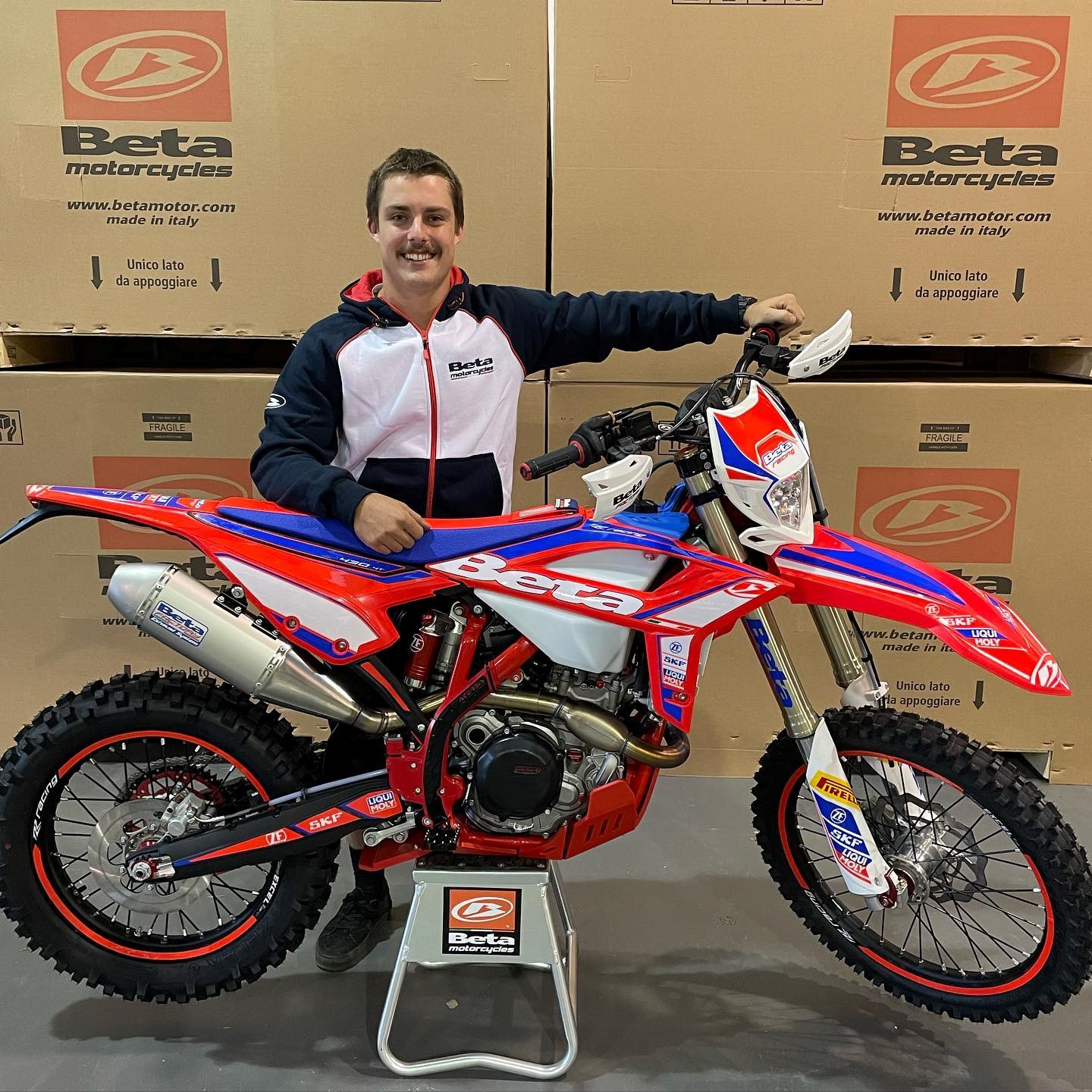 ISDE Winner and former Australian Off-Road Championship (AORC) Champion, Fraser Higlett will return to the Yamaha AORC, presented by MXstore, aboard his new red beast, the Beta 430.
The 21-year-old Queenslander, who finished third in the E3 class last year is chomping at the bit to get back racing in the national Championship.
Higlett is one of the true characters of the sport, always smiling, joking, and having a laugh.
But it is on track racing where the joking stops, the helmet and goggles go on and his true talent comes to fruition, as demonstrated in his AORC and ISDE victories.
The famous mullet has been ditched for 2021, although it may make a return according to Higlett, who has been hard at work getting to know his Beta 430.
Beta Motors Australia earlier this year announced they would have a serious tilt at the AORC and signed Higlett.
The dream team of Beta and Higlett came together after John Hafey, who previously worked at Husqvarna moved to Beta Motors Australia as the National Sales and Marketing Manager.
"We've been together since I started racing and he moved to Beta and the opportunity came up to start a racing team with Beta in Australia, and we made it happen," said Higlett, who headlines the Beta Factory Enduro Team.
"The bike is awesome I honestly can't fault anything about it. The thing is unreal.
"Dead set, I hopped on it with full stock suspension, and I felt comfortable straight away. I've never been able to do that straight away on a new bike."
Higlett has spent the past few months training hard and competing in his state off road series, but it is the AORC where he wants to rumble.
He missed the first two rounds of the Championship earlier this year, but is determined to make an impact when the Championship resumes.
"This year I will be competing in the E2 class on the 430 Beta.
"I've just always sort of liked the 430 in the class which seems to be the obvious choice.
"The E2 class is a really competitive class in the AORC and we will see where we end up."
While one may expect, with a new bike, new team, Higlett would just settle into the ride, he has high personal expectations.
"It's the first year on a Beta so we are not expecting massive things, but I personally feel there is a lot of potential this year and hopefully we can get on the podium in the AORC E2 class. That would be the ideal goal.
"Top three in E2 would be an awesome thing for me in the first year on the Beta, that's what I'm aiming for."
Higlett also still has ambitions to compete overseas and to represent Australia in the ISDE.
"We just need this COVID to go away, but yes I'd like to compete in the ISDE again.
"Beta is a really close-knit supportive family environment and I hope there is an opportunity to go overseas.
"But first I want to see how I go in Australia and then see what opportunities are available."
As for the famous mullet?
"The mullet might make a return, but I shaved it all off, but my hair is growing back. It might be a good luck charm and might come back."

Stay up to date with the latest news about the 2021 Yamaha Australian Off-Road Championship by visiting the AORC website at www.aorc.org.au , Facebook or @aorc on Instagram. Don't forget to download the Official AORC app via Team App. It's as easy as download Team App and search 'AORC'!