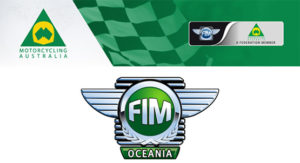 Motorcycling Australia is pleased to announce the launch of the new FIM Oceania official website.
For those who need a quick introduction about what is FIM Oceania.

FIM Oceania is a Continental Union (CONU) of the FIM (Fédération Internationale de Motocyclisme), the world governing body of Motorcycle Sport. FIM Oceania is the global regional representative office.
FIM Oceania works in partnership with the two member nations (federations) and FIM International to provide a consistent strategic plan for motorcycle sport within the Oceania region. In addition to working with other FIM Continental Unions around the world.
The FIM Oceania Board of Director's consists of five members;
Glen Williams (NZ) – FIM Oceania President
Peter Doyle (AUS) – FIM Oceania Vice President & CEO Motorcycling Australia
Simon Maas (AUS) – FIM Oceania Secretary General & FIMO Board of Directors
Virginia Henderson (NZ) – FIM Oceania Board of Directors & GM Motorcycling New Zealand
Dean James (NZ) – FIM Oceania Board of Directors & MNZ Board member
FIM Oceania operates with its own Statutes which are formed alongside FIM International goals and strategies.

FIM Oceania sanctions a wide range of motorcycle competition, which includes Road Racing, Motocross, Speedway, Enduro, Trial, ATV, Supercross, Supermoto & Historic racing. FIM Oceania also develops programs for the FIM Beyond Sports areas including – Ride Green, Ride True, Tourism, Public Affairs & Women in Motorcycling.

FIM Oceania further focus is on the development of Senior Officials in the FIM Oceania region. Using FIM Oceania events to create opportunities and a training pathway towards FIM Officials Superlience and FIM World Championship events.

The new FIM Oceania website will provide a location for news, information and education on FIM Oceania and FIM.
The all new FIM Oceania website can be viewed via – www.fimoceania.org.