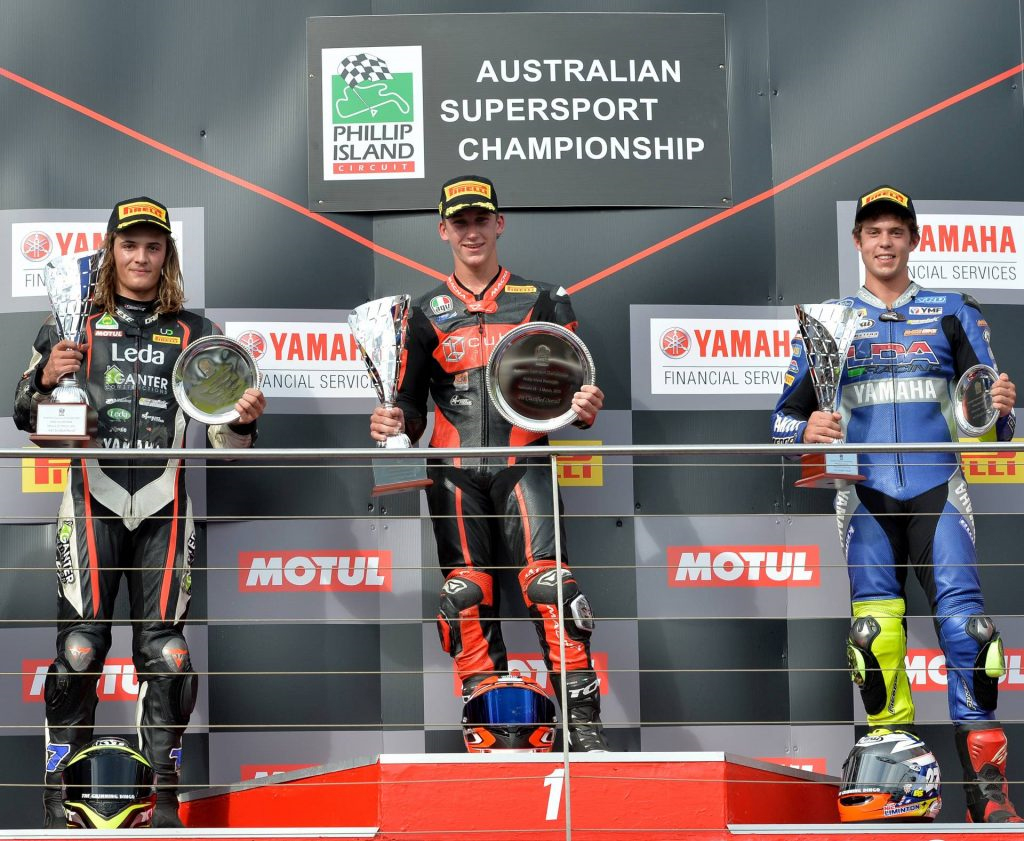 In an epic final race of the first round of the mi-bike Motorcycle Insurance Australian Superbike Championship, Presented by Motul, Cube Racing's Oli Bayliss has held off his best mate Benro Racing's Tom Toparis and Bikebiz's Tom Edwards in the MotorsportsTV Supersport class.
The three broke away from the rest of the pack early and each diced and dive bombed each other into corners taking the lead which made for fantastic racing action.
Edwards tried several times to break up the bromance weekend between Toparis and Bayliss, but it wasn't to be finishing third.
The second battle on track was just as intense with only a bike length between Stay Upright Rider Training's Jack Passfield, YMA Nic Liminton, SSS Developments Jack Hyde, and with GTR MotoStars Max Stauffer and Yamaha Motor Australia Broc Pearson dicing for seventh and eighth.
The bromance that is Tom Toparis and Oli Bayliss – fierce rivals on track but great mates off it
Oli secures the round win having won the first race and finished second in the second race and was very pleased with his weekend.
"All we (Tom and Oli) were talking about was how we were going to smoke each other, and I guess I got it done this weekend, and he's had it a few times, so I guess it's my turn this weekend," a beaming Oli said.
"This was probable one of the hardest races I have ever done, the heat and wind is not really on our side, but Tom and Tom and myself, we all fought a great race and I came out on top"
Round winners Left to right, Tom Toparis, Oli Bayliss, Nic Liminton
YMI Supersport 300
In the YMI Supersport 300 class it was complete domination from the start of the weekend to the last race Addicted To Track's Harry Khouri winning all three races.
There was plenty of action behind Khouri at one stage more than a dozen riders were battling for second and third.
The Bare Bird's Laura Brown and WNR's Ben Baker controlled the early stages of the race in second and third before being bombard by a cavalcade of riders in the final laps both losing out to former OJC competitor, GTR MotoStars Team's Archie McDonald and Proworx Kawasaki Luke Power.
Harry Khouri was too good at Phillip Island
At the podium the emotion, of his superb efforts got the better of McDonald breaking down in tears of happiness and he had plenty of fans including his old race buddies from the Oceania Junior Cup cheer him as he jumped off the bike.
At the interview with ASBK TV's executive producer and host, Emma Notarfrancesco, McDonald explained the tears of joy as "just the water I was drinking" with a smirk.
"There was a lot of hard effort put into it, I just come around MG and went right around them and was really happy."
OJC Coach and GTR Motostars Team boss team Damian Cudlin congratulates his former student and team member – Archie McDonald
Khouri was very pleased with his three victories.
"The start of the race Benny got an amazing start and it was a great race and hopefully those guys that crashed are alright."
Archie McDonald (left) and race 3 and round winner Harry Khouri
2020 ASBK Calendar
Round 2: Wakefield Park, NSW March 27-29
Round 3: The Bend, SA May 7-10
Round 4: Barbagallo Raceway, WA May 15-17
Official ASBK Test – Morgan Park, QLD July 28-29
Round 5: Morgan Park, QLD August 7-9
Round 6: Winton, VIC September 11-13
Round 7: Phillip Island GP Circuit, VIC October 2-4
Head to www.asbk.com.au for more info about the mi-bike Motorcycle Insurance Australian Superbike Championship, presented by Motul. For the latest updates from the ASBK, follow us on Facebook and Instagram.
Photos by Russell Colvin