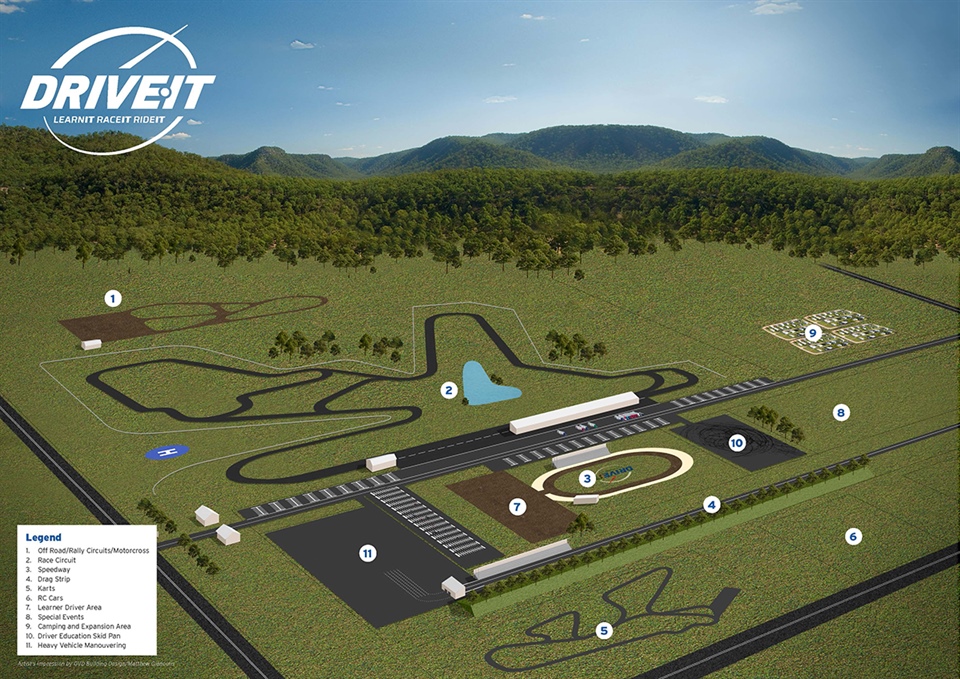 Townsville City Council has approved the driver education and motorsport facility "DRIVEIT NQ" in Calcium, 40km inland of Townsville, North Queensland.
Council had provided the not for profit organisation with 306ha of land in 2016 and on Tuesday agreed to the Development Application through a staged process.Pat Driscoll, the interim Chair of DRIVEIT NQ says that the organisation is ecstatic with the result "We have been working tirelessly dotting our i's and crossed our t's to ensure that the precinct got over the line with Council. Our clubs, our businesses, and the general public are excited about the positive economic, social, and cultural impacts the facility will bring to Townsville and the region."
The facility will pump $35 million per year into the local economy with 90 full-time jobs during construction and 149 full-time equivalent jobs once operational. It will deliver an additional $8.8million per annum to the tourism industry in Townsville.
In her statement, Townsville Mayor Jenny Hill said the finished product will be a massive asset for the city. "This is a very good news story for motorsport fans in Townsville," Cr Hill said. "The region really needs a facility like this – we don't have anything like this and DRIVEIT NQ have worked hard to get to this point."
Last year DRIVEIT NQ secured $5million in funding from the Federal Government to build a large vehicle manoeuvring area and support infrastructure. Engineering design is almost complete, and construction is due to start imminently, with completion due by March 2020. While this 2.25Ha pad can be used for some low-level motorsport, its peak use is for rollover recovery training for heavy vehicles.
A further $18.3million in funding is sought to complete construction. A racing circuit, drag way, speedway and supporting infrastructure needs to be built to ensure the ongoing viability of the precinct and its ability to contribute to the local economy.
DRIVEIT NQ are calling all parties to stand up and support the facility at the upcoming federal election. "This is a shovel ready project; all the preliminary work has been done. What will it take to bring money and jobs to the North, and to Townsville?" said Mr Driscoll. "Fund this project and you will be funding jobs, tourism, and small businesses! If funds were available immediately the facility could be completed within three years."
What will the facility provide?
• The existing $5M is providing a 2.25 Ha heavy vehicle manoeuvring area for driver education.
• The $18.3M will provide a race track, drag strip, off road facility and a speedway.
• Income from these facilities will fund driver education, furthermore the circuit and drag strip, along with the interconnect roads, will also be utilised for driver education.
• It will handle training for drivers of all ages and experience levels – from school age kids to heavy combination vehicles (including rollover recovery training).
• A home for all types of motorsport.
• A place for major events such as concerts, festivals etc.