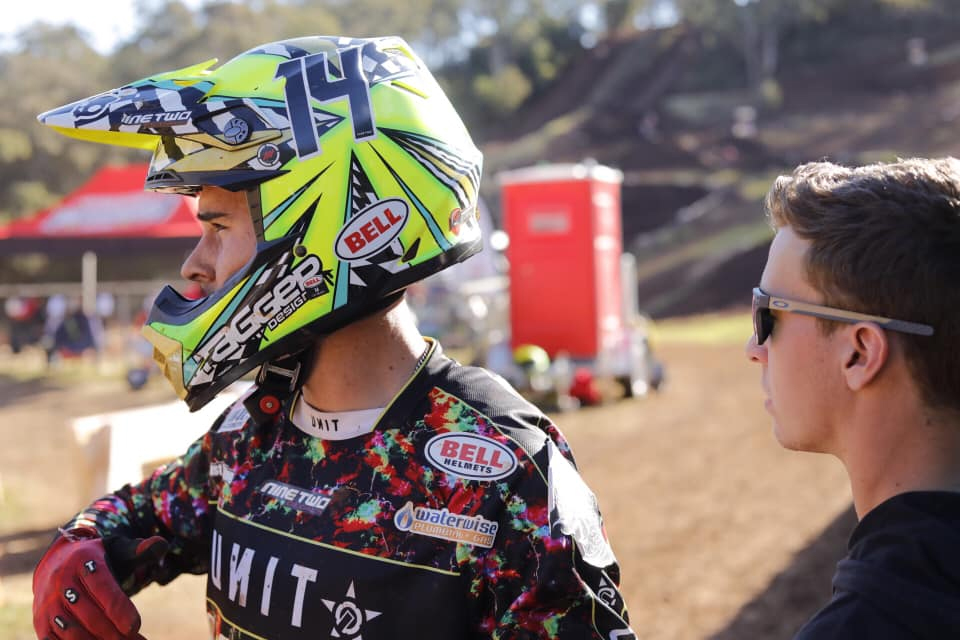 The Weather Gods smiled all weekend as Jesse Dobson and Mason Rowe claimed 2019 Maroon #1 Plates for themselves at the final round of the Qld Motocross Championships at Echo Valley.
Toowoomba was bathed in glorious sunshine and the the Toowoomba Club had done a great job with track preparation, so all that was left was for the riders to enjoy the famous Skyline and the Matterhorn features.
In the premier class Jesse Dobson took the maroon plate with a dominant final round performance, with Mason Rowe second in each moto on his way to the runner-up position in MX1.
Jesse Madden grabbed the final step on the podium for the day, while Robbie Marshall and 'King of the North' Luke Weaver completed the top five.
Luke Weaver's 5,4,5 was enough to net third podium position in the 2019 state championships for the man who currently leads both the CQ and Tropical NQ series championships in both MX1 and MX2.
A fierce battle for MX2 honours saw five riders share the podium finishes, not that Aaron Tanti was sharing too much – his 1, 3, 1 gave first on the day and 12th from one appearance.
Mason Rowe's second on the day (2, 4, 2) was plenty enough to earn him the title of MX2 Champion, while the see-sawing battle of the Ferguson brothers ensured plenty of interest in the final moto.
Noah and Isaac entered the final moto tied on points, and changed position three times before Noah decided the issue in his own favour by a single point, taking the Vice Champion position on the podium.
Standouts in the Junior classes was young Jake Kowal who continuously holeshotted gave No.1 plate holder Levi Rogers plenty of work each race. The high-point was the second Junior Lites 2-stroke race, where Levi crashed on the step-up and restarted in the last position. He tried valiantly to catch Kowal and got within snapping distance, but couldn't quite get him at the finish line.
The 65cc 10-U12 saw some great racing with Stevenson getting in over the line over Wilmington in Saturday race one moto. (Saturday)
In the Mini Lites 14-U16 youngsters Jackson Camilleri and Deegan Mancinelli had some close racing.
Full results for all the championships right here:
Great pics: Scottya – #14 Jesse DOBSON, #27 Mason ROWE, #16 Luke WEAVER, #42 Noah FERGUSON, #149 Isaac FERGUSON, #81 Joel EVANS, #754 Jayce COSFORD
MX1
1 Jesse DOBSON 193
2 Mason ROWE 182
3 Luke WEAVER 158
4 Robbie MARSHALL 157
5 Sam LARSEN 139
6 Joel PHILLIPS 130
7 Kye ORCHARD 129
8 Cody HALL 115
9 Darcy CAVANAGH 114
10 Joshua MOHAMMED 112
MX2
1 Mason ROWE 197
2 Noah FERGUSON 171
3 Isaac FERGUSON 170
4 Joel EVANS 162
5 Jayce COSFORD 156
6 Luke REARDON 145
7 Jake WILLIAMS 139
8 Navrin GROTHUES 128
9 Cody HALL 125
10 Cody SCHAT 121