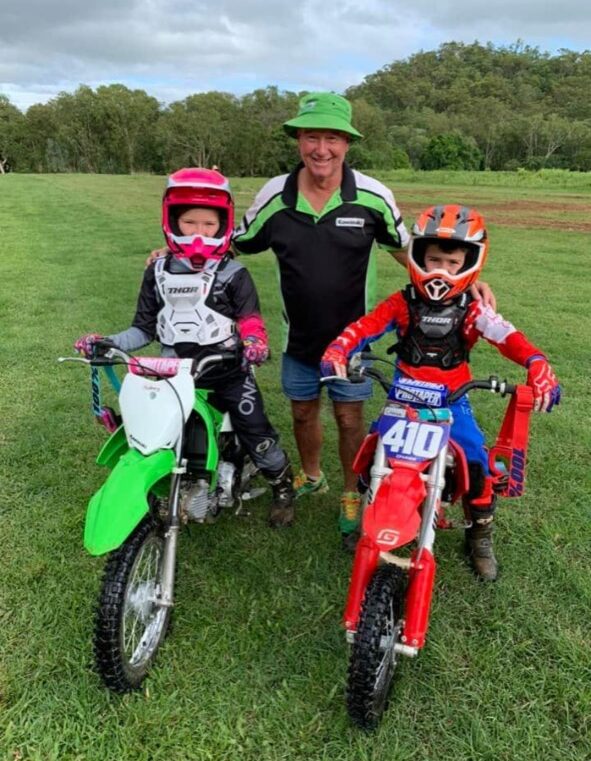 Very generous CQ Coaches Michael Brooks, Justin Burgess and Kellie Burke left some surprised and very happy little campers after the weekend's Kickstart and endorsement at Hampden, in the Mackay region.
The pair decided to funnel their entry takings into the local motorcycle businesses AMX Mackay, Bullet Bikes Mackay and Inmotion Suspension, in exchange for a swag of related products including lubes and protective clothing, and gave it all back to the kids!
"I've been in the sport since I was three," said Michael, "and Level 2 coach Justin also has 30-plus years in the sport, and has even represented Queensland in enduro. Neither of us, nor club coach Kellie had any interest in taking money from it, so we thought we'd just convert it into products the kids could use to keep their riding going."
The coaches have begun Triple B Coaching to add an outlet for a fun, safe introduction to motorcycle sport to the Mackay region.
"We just want to make it easy for local kids to access the sport," continued Michael.
"A lot of them were kids who got new bikes for Christmas and needed to know how to use them safely, and some of them needed endorsement for the upcoming race at Biloela, but the improvement we saw from them over the weekend were very exciting.
"Kellie Burke's three tracks and big open grassy area were the perfect place to coach – the kids even had a swim in the dam after riding on Saturday.
"We took their entries and bought oil, chain lube, hats, riding gear, stickers and MX gear, and once they were signed off we gave it all to the kids. The parents were pretty shocked, but they raved about how much time we spent with the kids and what a great weekend they had."
Anyone wanting to get in touch with Triple B about upcoming coaching opportunities can follow their Facebook page: