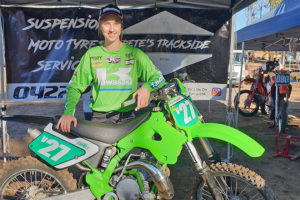 Charlotte Gamble is leading the charge for the women in this weekend's Conondale Classic – the popular race for Pre-'95 machines.
The 21-year-old motorcycle mechanic made her classic debut last year on a borrowed 1989 CR250 and was determined to return!
"It was one of my favourite races and I've really been looking forward to it," said Charlotte, "this time riding my 1994 KX250. It's still racing, but it's a nice laid-back event that's more about having fun racing with your friends than racing for a world cup. Racing an old-school bike is super fun, and even better on a fantastic natural terrain track like Conondale, which only opens a few times a year.
"I definitely encourage other women to come join me in our own women's class at the wonderful Conondale Classic, even if you have to borrow a bike like I did last year!"
Visit the Sunshine Coast Motorcycle Club's FB page for more info, and entries are via Ridernet.