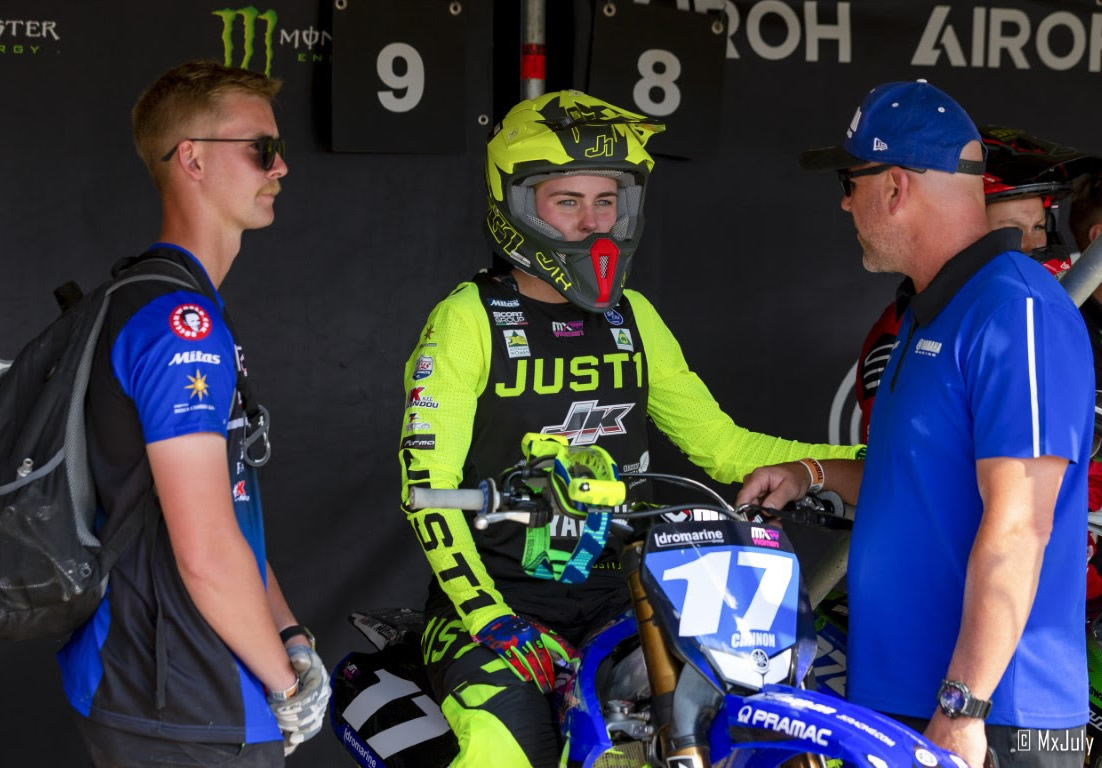 From: Yamaha PR
Yamaha's Charli Cannon has returned to Australia buoyed and inspired by her MXGP experience with plenty of positives and motivation to take away from an exciting weekend for the recently crowned Australian motocross champion.
The Sunshine Coast based teenager contested the final round of the Women's Motocross Championship in Turkey, as a guest rider for the JK Racing Yamaha team. It was her first appearance on the world stage and despite clearly being nervous, she was able to showcase her obvious talents and prove she belongs at an international level.
Cannon qualified in ninth place and after quickly learning the Afyon track and getting accustomed to the JK Racing Yamaha YZ250F. With each passing lap, she felt more comfortable on the track and a little more settled, as the big stage can be daunting.
Race one saw her off to a top 10 start and battling to move forward. As the race progressed, she was able to make some passes and moved into seventh place and in a tight knit bunch from positions four through nine. In the waning stages, she lost a position and after nearly 30 minutes of racing, crossed the finish line in eighth place.
She wasn't happy with her performance and was determined to make improvements in race two.
Cannon stormed out of the blocks in race two and quickly established herself in the top five. She then moved into fourth and after another lap, charged her way into third, well within striking distance of the race leaders as she had just recorded the fastest lap of the race at that stage.
As she zeroed in on second place, she landed in a wet section of track and the front wheel slid from under her and she fell on the rock hard Afyon dirt. She remounted as quickly as possible but was outside the top 10 and well behind the pack.
She put in a charge and got to the back of the main group before going down again, this time falling awkwardly on her shoulder. She was in pain and unable to continue with what was later diagnosed as a broken collar bone. It was a disappointing ending to a very promising start in WMXGP.
"Right after the race, I was just disappointed and upset as I felt I let some many people down by not being able to finish the race and not getting a good result," Cannon said. "But now that I have had some time to think about it, there is a lot of positives I can take from it and it has motivated me to make sure I get back and do more of these events as I believe I can be competitive with the best women racers in the world.
"I started the weekend out pretty slowly as I was so nervous and a bit overwhelmed by everything happening around me. I think I was four seconds a lap off the pace and that was a bit disheartening, but I knew I didn't ride well and I could make improvements.
"By the time race two had finished, my best lap was under a second away from the fastest of the race and I felt like I could have run that pace for the whole moto. Hopefully, I can get the opportunity to do more GP's as now that I know how things run and have a relationship with a lot of the people, it will make things easier for me.
"I have so many people I want to thank for making this happen for me. The Yamalube Yamaha Team have been amazing this year and working with both Mike and Nash is unreal. Having Nash on the trip with us made things so much easier. The JK Racing team were so good to us and nothing was ever a problem as well as Yamaha in Australia and Europe with Nikki and Paul Malin taking care of us.
"Also a shout out to all the people that supported us from the riders who donated their jerseys and the people that purchased them to help us raise money for the trip as well as Motorcycling Australia for their support of Women's racing.
"I see this as just the beginning and I have come home motivated to get to work once my collarbone heals. I loved the atmosphere of the GPs, and everyone was so helpful. I can't wait to get back to do more in 2023," Cannon ends.