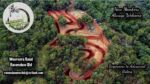 Description:
The club is a non-profit organisation run by volunteers. All profits from race meets throughout the year are used to continually improve the clubs' track and facilities. Club facilities include toilets, hot and cold showers and a canteen, which operates on practice, coaching and race days. We also offer camping for those who wish to stay the night before a practice, coaching or race day.
Race days are not just for the riders, but also the spectators. There are classes for all interested in Motorcross with a number of local ladies also competing.
The club would like to thank all the volunteers who have spent many long hours preparing the track and facilities, and building the club to what you see today. The endless time spent behind the scenes is greatly appreciated. Please remember that all clubs need as much help as possible to keep them running, including improvement of tracks and facilities. All too often it is left up to only a small handful of volunteers to keep our clubs throughout Queensland, Australia and the world up and running.
Also thank you to all our local businesses that have supported not only our club over the years but also our youth.