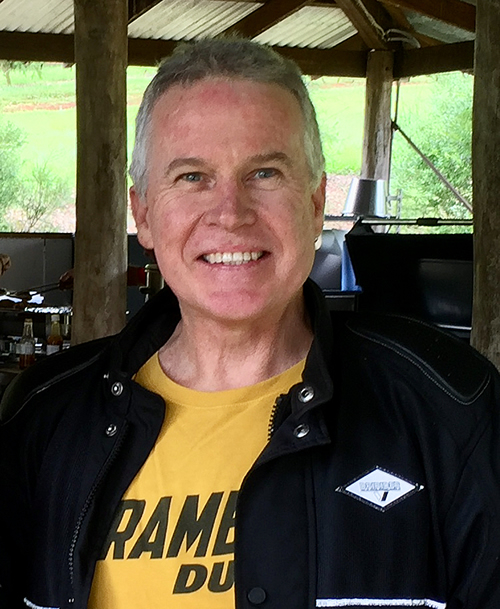 A new MQ Director was appointed at last week's MQ Annual General Meeting.
Brisbane solicitor Brian Egan (62) is a member of the Ducati Owners Club, and in his role with MQ Brian will help us out, both in normal Director duties and more particularly in matters of corporate governance.
"The Corporate Governance part of the role," said Brian, "might be taking an overview of the board, the subcommittees and the affiliated clubs beneath, and then upwards to Motorcycling Australia to make sure everything is aligning in the way that works best."
Motorcycles have been a part of Brian's life for a long time; "As soon as I got my car licence, I started on a DT250, and my mates and I used to ride up the road to Leslie Harris Dam at Tingalpa under the power lines. Then we all got married and put the bikes away, and the bikes came back in the late-90s with a Honda, and then in '03 with a Ducati and then another.
"The friends I used to ride with at school all ended up with Dukes. We just ride out together might go away with partners, find a base and go for rides."
Brian's current bike is a Ducati Hyperstrada, after he went looking to replace the Supersport which kept giving him a sore neck. "I love it, it's a great bike to ride around the Scenic Rim into NSW on the dirt roads.
"My most super satisfying ride would be up through the Scenic Rim. I love the Scenic Rim. I'm not a Mt. Glorious or a Mt Mee person. Partly because they're both across town and partly because there are too many crazies up there. Mid-week I'd do a back of Mt Glorious run, but on the weekend I like to go around Lake Moogerah or the head out through Killarney, White Swamp, Kyogle and Woodenbong, once you're past Boonah and Carneys Creek there are decent gravel roads where the only other people you'll see are on KTMs. It's good fun."
Caption: When Brian was asked to provide a pic of himself out riding- "Well, I can give you a shot of my bike out riding!"