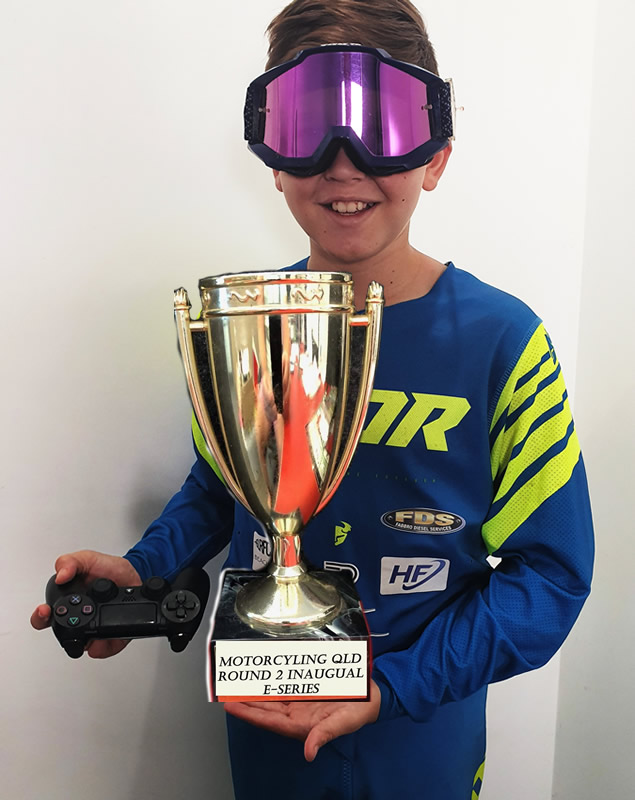 Youngster Virtually Spotless
Well one thing's for sure, when the virtual Hiaces pulled into the virtual parking lot in virtual Houston, round two's winner definitely got out of the passenger side!
He might only be 11 years old, but Brayden Bradford demolished all comers in the second round of the inaugural MQ FB page e-sport comp, to win the round from Jackson Richard Godley and Nash Ihle.
A former state-ranked junior dirt tracker from the northern breeding ground of fast dirt trackers – Townsville – young Brayden looks up to the region's slideways supermen like Kayden Downing and Damien Koppe and raced a KTM 85 with a big #171 on it, prior to the zombie apocalypse.
The rare transition from junior DT to virtual SX was not only achieved though, it was SMASHED, with the 27TH-fastest time recorded on planet earth!
Asked how it felt to have the re-purposed Rd.2 rescue trophy hastily photoshopped into his waiting hands, Brayden replied "I'm excited! I wasn't expecting this. I was just about to quit because I was getting mad, and I thought I'd have just one more lap."
Apart from the obvious power- to weight advantage in his diminutive stature, Brayden credits the broken collarbone he suffered in January as his secret weapon. Well at least, all the time he subsequently spent at the console.
Round three of the inaugural MQ FB page e-sport competition is approaching fast, and this time we thought we'd let the players decide the battleground! So stay tuned for a poll which will run during the day on Friday, and ultimately decide the Rd. 3 venue.
Hold it on!