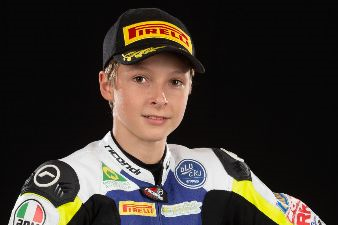 16 August 2019
This week's bLU cRU Oceania Junior Cup rider is Max Gibbons, who hails from the Gold Coast. A strong performer in this year's Oceania Junior Cup (OJC), the Queenslander opens up about his life-long love of motorcycle racing.
Tell us about where your love for motorcycle racing began and why?
It started when I was three years old because we had a motocross track at our house, and I loved watching my Dad race his mates. My dad bought me a few bikes and my love for racing grew from there.
Tell us about the first time you hopped on a motorcycle.
My Mum and Dad got me a Peewee 50 and I rode it around on the family farm with my brother and sister. I got better and better from there and moved onto a KDM 50 and started doing local races.
Thinking back, tell us about one of your favourite memories growing up when it comes to motorcycling?
Riding around on our motocross track and having fun. I also love doing a bit of enduro racing as well.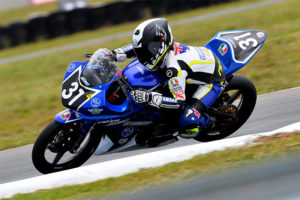 What career do you hope to end up in? For example, WSBK or MotoGP racer?
My goal is to be a professional motorbike racer and racing in a world championship, whether that's in Superbikes or MotoGP. I still do a bit of Motocross riding because it's a good form of training, but my main goal is to be a professional road racer.
Tell us who your sporting idol is. How have they impacted you and your love for motorcycling?
There are so many people that have influenced me in racing, but Casey Stoner is the main one because he's achieved all his dreams from doing it the hard way. He never had the best bikes or gear, but he still managed to get it done. I've watched heaps videos of him, and I got halfway through his book. It was inspiring the way he won his first 125 title and he went on from there. I just admire his determination.
What have you learnt from the bLU cRU Oceania Junior Cup?
I've learnt that it's a tough competition and you need to arrive at the track ready to go. You also need to have a lot of respect for your fellow competitors. I'v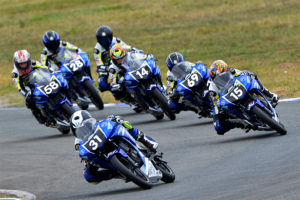 e also got to see all the effort the sponsors and what goes on behind the scenes to get us on the track. I can't thank enough my family, sponsors and everyone else that has played a part in my career so far.
Tell us about your bike, helmet, leathers, gloves and boots. How are you adjusting to the new bike? How do you find the products that have been chosen specially for you?
The AGV helmet is hands down the most comfortable one I've ever worn, it's just so light and safe. The Ricondi leather skins and gloves are the perfect size, so when you're comfortable you ride better. The TCX boots are awesome, too. Finally, the Yamaha R15 handles so well and it feels like I'm riding a MotoGP bike. It's really smooth and looks so professional.
Images: Russell Colvin (track shots) & Andrew Gosling – tbgsport (head shot)