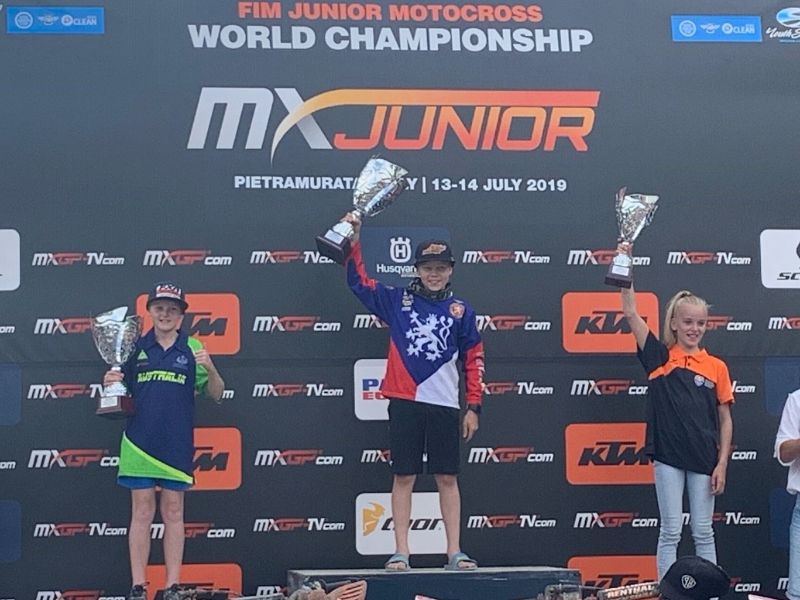 Team Australia's World Junior Motocross (WJMX) riders have proven themselves amongst the best in the world over the weekend, competing in the prestigious FIM Junior Motocross World Championship in Pietramurata, Italy, last weekend (July 13-14). The green and gold riders fared particularly well in the 65cc World MX Junior Cup, with KTM riders Ky Woods and Kayden Minear finishing second and fourth respectively.
Boasting some of the world's best junior motocross riders, the FIM Junior Motocross World Championship saw Aussies represented across all three classes (65, 85, and 125cc). Although they were unable to successfully defend Australia's Team of Nations trophy won on home soil at Horsham in Victoria, the team that traveledto Italy acquitted themselves brilliantly, finishing ninth overall and representing their country proudly.
Team Australia Team Manager Mark Willingham was quick to praise the efforts of all the riders representing Australia in Italy. "Really happy with the effort from all the riders," Willingham said. "Similar to some previous years our 65cc class riders were amazing, and then we see the strength of the European racing program really shine through in the 85 and 125 classes.
"From my perspective, Team Australia had one of the best set ups we've ever provided on site to ensure the riders had everything they needed. With our main section arranged under the Diga Racing truck we had a full catering service for our meals along with their experience and guidance. On top of this our Yamaha riders were provided services from Yamaha Europe's official race trucks, which was a result of all the effort the Aussies arranged last year welcoming the European riders at Horsham.
"In the end Team Australia finished up 9th in the standings, and were the first team home that was unable to score points in all 3 classes."
Ryder Kingsford (Yamaha) and Campbell Williams (KTM) also made it to the finals, finishing in 13th and 24th places in the 85cc class. Also representing Australia were Alex Larwood (Yamaha,125cc), and Blake Fox (KTM, 125cc).
For full results from the 2019 FIM Junior Motocross World Championship, click here.
For more information and updates from MA, visitMA.org.auor follow us onFacebookandInstagram.