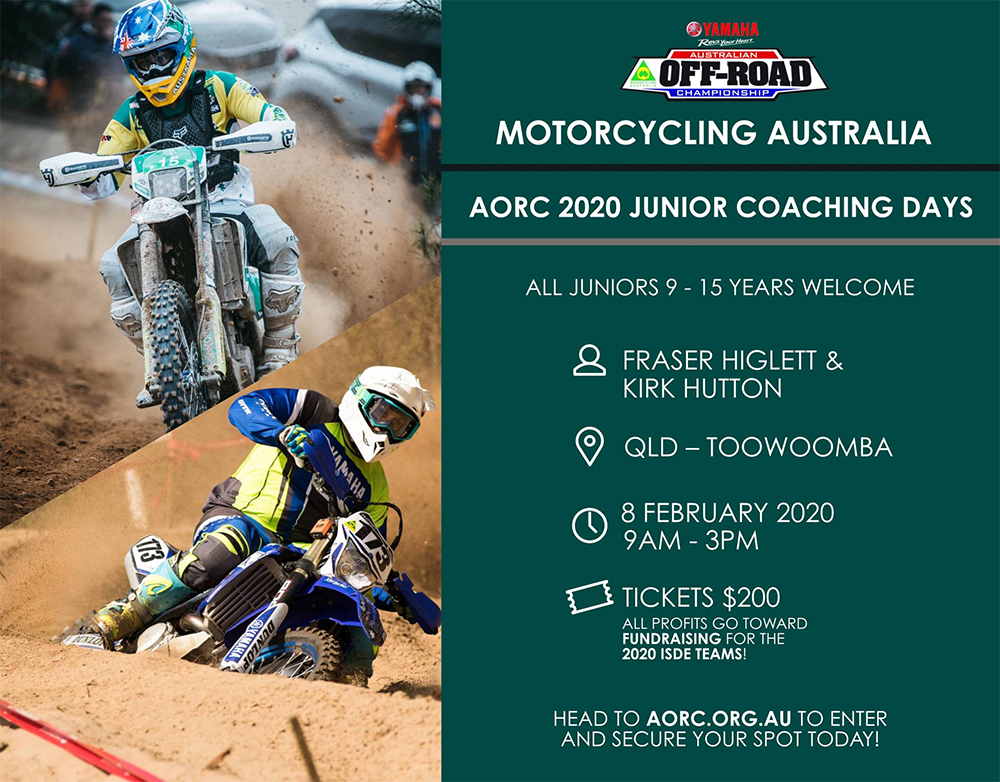 Motorcycling Australia and the Yamaha Australian Off-Road Championship (AORC) will present four junior summer coaching clinics with Australia's world champion riders in Victoria, New South Wales and Queensland in January and February, 2020.
The 2020 AORC Junior Coaching Days clinics will be held on January 18 and 19 in the Yarra Valley, Victoria, January 25 in Stroud, NSW, and February 8 at Toowoomba, Queensland and led by world champion riders including 2020 World ISDE and AORC Champion Daniel Sanders, Daniel Milner, Lyndon Snodgrass, Fraser Higlett, Kirk Hutton, Joshua Green, Michael Driscoll and Jessica Gardiner.
The clinics are for junior riders aged 9-15, with all proceeds going toward funding the 2020 FIM International Six Days Enduro (ISDE) Australian team who head off to Italy in August.
Motorcycling Australia Off-road Events Manager, Matthew Falvo, said the training camps were not to be missed by junior riders.
"This is a fantastic opportunity for Australian junior riders to learn from the world's best off-road riders in their own backyards," Mr Falvo said.
"These clinics will help riders build confidence, increase their skill level and learn new tricks on how to get the most out of themselves and their bike.
"Whether you want to prepare for a race or improve your dirt bike techniques these coaching clinics are vital and spots will fill quickly."
Riders wanting to register for the clinics need to register at https://www.aorc.org.au/competitor/
Stay up to date with all the happenings of the coaching clinics and the 2020 Yamaha Australian Off-Road Championship by visiting the AORC website at www.aorc.org.au or by following the AORC on Facebook as well as @aorc on Instagram and download the AORC App via Team App.
Here are the details of the upcoming coaching day featuring Fraser Higlett and Kirk Hutton.