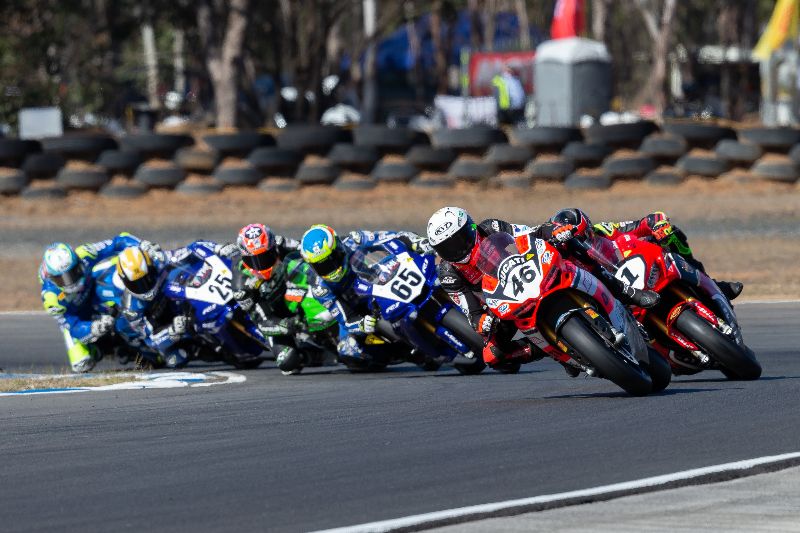 Round 4 of the 2019 Motul Pirelli Australian Superbike Championship (ASBK) at Morgan Park in Queensland saw mixed fortunes up and down the Kawasaki Superbike field. With Wayne Maxwell (Team Suzuki ECSTAR Australia) claiming the Round, and Mike Jones (Desmosport Ducati) claiming the championship lead, we catch up on some of the other Kawasaki Superbike competitors to find out how they fared.

Penrite Honda

Reigning Australian Superbike champion Troy Herfoss finished third overall at Round 4, qualifying in fourth before finishing his Sunday with a fourth in the first race, missing out on the win in the second by only three tenths."It was a really good finish to the weekend, that second race," said Herfoss. "This was the hardest weekend I'd had in a long time, so I'm just so happy to close the gap to the championship leader down to 15 points.We've come out of here mistake-free, put it on the podium and are in a good position leading into Winton. I'm happy with where we're at for the moment and we will keep working hard to get back on the top step."
It was a more challenging race-day for teammate Mark Chiodo, qualifying 10th and crashing out of Race 1. He managed to claw back some points that afternoon, finishing 13th in race two for P15 overall.
Yamaha Racing Team

Cru Halliday finished fourth overall off a third and a fifth in the two races after qualifying second. He maintains his second place in the championship, only one point off the championship lead.
"Overall, it was a reasonable weekend" said Halliday, "although my goal for every round is to finish on the podium and I wasn't able to do that this weekend, so I'm a little disappointed in that" he admitted. "But, the positives to take from it are that we are right in the hunt for the championship and the next couple of tracks coming up are to my liking. The team has the bike in great shape and I feel confident on every track we go to but there always that bit extra belief on tracks where I have had success before."
The weekend was a tough one for teammate Daniel Falzon who put his machine onto row two of the grid after qualifying in P6, but all that went out the window on lap two of the opening race when Falzon went down and was unable to finish the race. "This wasn't the day I was after and I'm really disappointed with my results today" he said. "It's not what I was expecting and not where I belong. I can't change it now, but what I can do is make sure it doesn't happen again and I need to redeem myself at the next round."
Kawasaki BCperformance

Bryan Staring couldn't hang onto his championship lead at the weekend, but certainly remains in contention after a sixth-place finish overall. As it has done all season, Staring's pace built up over the course of the race with his lap times steadily improving as the laps wound down. Unfortunately, a mistake late in the race saw Staring fall on lap 14 while positioned fourth, but he was able to pick the bike up and salvaged five championship points in 12th. A fourth position in Race 2 saw Staring credited sixth overall and third in the Championship standings, eight points offf the lead.
"It was such a contrasting weekend, because I'm disappointed that I crashed in that first race, but the good thing was that I didn't damage the bike and managed to salvage five points," said Staring. "I was really in the zone in Race 1 and got a sniff of the podium, so I was pushing for it! Race 2 was brilliant, actually. Following the crash earlier, I unfortunately had some dirt in the switch and couldn't activate my launch control, so that put me way back off the start. I fought my way through from there and was again in the mix for a podium – fourth was good and we were really strong this weekend."
Teammate Lachlan Epis qualified in 14th position, scoring P10 overall for the round with a 10th and 11th place finish to cement 15th in the championship rankings.
Matt Walters Racing

Independent rider Matt Walters scored eighth overall in Queensland.aboard the Kawasaki, qualifying ninth on Saturday to place him on the third row of the grid. From there, Walters further improved, racing to eighth position in the opening 16-lap encounter and then crossing the finish-line ninth in race two. Those results earned him eighth for the weekend, matching his season-best to date. "I was probably hoping for a little bit more in terms of the result," Walters admitted. "Since we had done a fair bit of testing at Morgan Park, I was confident we could get a better finish, but it didn't come this weekend." An uncharacteristic bout of arm-pump affected Walters at the tight and technical Warwick-based venue over the weekend, which he will be looking into further between now and round five. "I'll have to look into some arm-pump issues that I hadn't had for a few years," he explained. "It was a bit strange, because it was just in one arm and I didn't have it in testing – it only came during the races. I'll be looking into that."
Maxima BMW

A lineup change saw the team running New South Welshman Aaron Morris as the sole rider for the Morgan Park round, making his return to the premier category. A poor start from sixth on the grid saw Morris down to thirteenth place by the end of the first lap. However, the 27-year-old dug deep and carved his way through the field to come home in sixth place.
"After not being on a Superbike for a while and not fully racing at Morgan Park, it made it a bit difficult to 'nut it out'" said Morris. "The main thing is we slowly progressed our way forward and showed just how strong the BMW S 1000RR actually is." Morris' performance in Race 2 looked promising, until on lap five Morris hit a bump going into turn one, lost the front end and fell, ending the Novocastrian's weekend. "Apart from the crash, I was feeling really good out on track," expressed Morris after race two. "I'm just disappointed that I was unable to deliver the team and sponsors another good result like what we did in Race 1. That's racing sometimes. You have to take the good with the bad. Overall, it was a good weekend."
Header image courtesy of Andrew Gosling – tbg sport