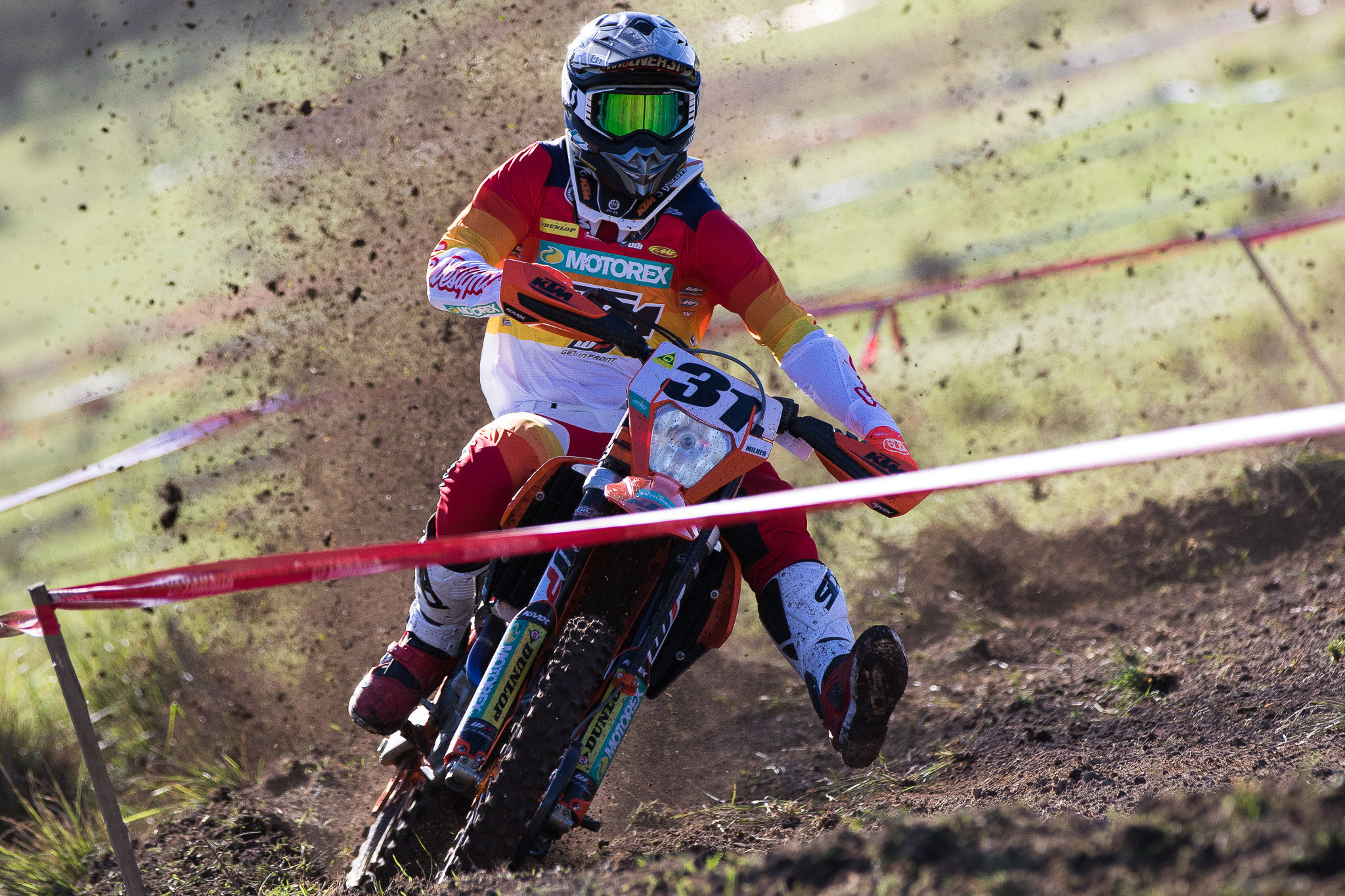 After a three-month break, in what seems like a lifetime ago now, the Yamaha Australian Off-Road Championship (AORC) finally swings back into action this weekend (July 20-21) at Kyogle, in the Northern Rivers region of northern New South Wales.
In between AORC rounds, a lot of the AORC field made the trek to the iconic Hattah Desert Race, which took place on the first weekend of July.
Heading into this weekend let's take a quick gander at everything you need to know in terms of the state of play of the championship across all classes.
E3
In the E3 category, Husqvarna Enduro Racing Team's Daniel Sanders holds a clean 100% scorecard having won all four rounds this year. He sits on top of the championship with 100-points locked away as he continues his march towards a second E3 Championship.
Sanders' victory last time out marked his fifteenth round win in the E3 class and his twenty-eighth podium finish in the category.The last time Sanders raced at Kyogle was back in 2015, when he finished second to his then KTM teammate, Toby Price in both rounds on the Saturday and Sunday.
Fourteen points behind the Victorian rider is Beau Ralston (Husqvarna), who has found himself finishing on the podium in four of the rounds with three second positions, at Rounds 1, 3 and 4, while at Round 2 it was third place, when he finished 20.651 seconds behind Motul Pirelli Sherco Off-Road Team's Andrew Wilksch, who finds himself in fifth place in the championship standings.
In third place and not to be over looked is Jesse Lawton (Husqvarna) with 72-points, while in fourth place is Matt Murry (Kawasaki).
E2
Just like in E3 class, KTM Enduro Racing Team's Daniel Milner has made the E2 class his own in 2019, taking line honours in all four rounds proving he is the man to catch this year. Fresh from his recent Hattah Desert Race win, Milner will be looking to extend his championship lead this weekend. Milner's closest rival and last year's E3 champion Josh Green (Active8 Yamaha Yamalube) has a question mark on if he will compete this weekend. Green suffered small fractures, a lot of bone bruising and damaged ligaments in his wrist after he fell at the Hattah Desert Race.
"After seeing two hand specialists, MRI, X-rays and physio we have worked out that surgery is not needed as nothing is completely snapped or ruptured." Green posted on social media. "We will do whatever it takes to be on the start line as soon as possible," he said.
With Green potentially out of the game this weekend, Milner will have to focus on keeping Frenchman Jérémy Carpentier at bay, as he sits 22-points behind Milner. A steady start to the year, with three thirds and one fourth, sees the Yamaha MXstore Ballards Offroad Team rider eight points ahead of Broc Grabham (Honda), while Brad Hardaker (Yamaha) completes the top five with 59-points in the bag.
E1
The E1 championship is boiling up nicely with the top four riders covered by nineteen points. At the top of the charts is Active8 Yamaha Yamalube's Luke Styke. The former motocross and supercross ace has taken out all rounds bar Round two when he was defeated by KTM Enduro Racing's Lyndon Snodgrass.
While Snodgrass may be doing the attacking when it comes to trying to chip away at Styke's championship lead, he is also doing some defending as Michael Driscoll (Active8 Yamaha Yamalube) is breathing right down his neck just one point behind in third place.
One slip up this weekend from either Snodgrass or Driscoll, and Fraser Higlett (Husqvarna Enduro Racing Team) could find himself possibly leaving this weekend in second place in the championship as he only sits four points behind Driscoll and a further five points behind Snodgrass.
EJ
Kyron Bacon (KTM) has proven that he is the man to hunt down in the EJ division. Bacon has scored four wins four starts in the 2019 season. Playing the second fiddle to Bacon so far has been Joshua Brierley (Husqvarna), while Korey McMahon (KTM) sits in third place in the championship fight after finishing third in all four rounds so far.
The fight is on for fourth place in the championship. Three points separate Cooper Sheidow (KTM), who sits on 66-points ahead of Nathan Howe (KTM) on 65, with Riley Nancarrow (Yamaha) in sixth place on 63-points.
Juniors
Moving our attention to the Juniors and first off we look at Blake Hollis (Yamaha). Hollis has simply crushed his rivals in quest of his J4 championship crown. He heads into this weekend with 100-points to his name after winning all of the first four rounds. Twelve points behind is Mackenzie Johnson (Yamaha), who has finished second to Hollis in all of the rounds. If Johnson wants to win this year's title, he has to come up with some sort of plan to put a stop to Hollis… fast. Rounding out the top five is Cody Chittick (Yamaha), Zac Perry (Kawasaki) and Oscar Collins (Husqvarna). Leading the championship in the J3 class is Riley McGillivray (KTM), while Max Phillips (KTM) holds a one-point lead over Campbell Hall (KTM) in the J2 class.
Womens
Yamaha MXstore Ballards Offroad Team's Jess Gardiner leads the charge in the Women's championship, and while it's still early days in the season she looks like she is on course to claim her record breaking fifth championship title. Playing the bridesmaid to Gardiner at this current stage of the championship is newcomer Emma Milesevic (Honda), while snapping at heels is the 2013 champion in Emelie Karlsson (Yamaha).
Veterans & Masters
Lee Stephens (KTM) will look to continue his winning ways in the Veterans class. Stephens is yet to be defeated in the 2019 season. Chris Thomas (KTM) and Paul Chadwick (Honda) round out the top three respectively
Leading the merry way in the Masters Championship is Kirk Hutton (Yamaha), who wrapped up round wins in the opening three rounds, but finished second to Brad Williscroft (KTM) at the fourth round. However, Hutton heads into this weekend with a healthy thirty-one-point lead over Peter Rudd (KTM), with Ian Jenner (KTM) in third, two points behind Rudd.
Stay updated on all things AORC and Off-Road by checking out AORC.org.au, Facebook and Instagram, and be sure to follow the Official AORC hashtag, #only1roadoffroad!
Images courtesy of John Pearson Media