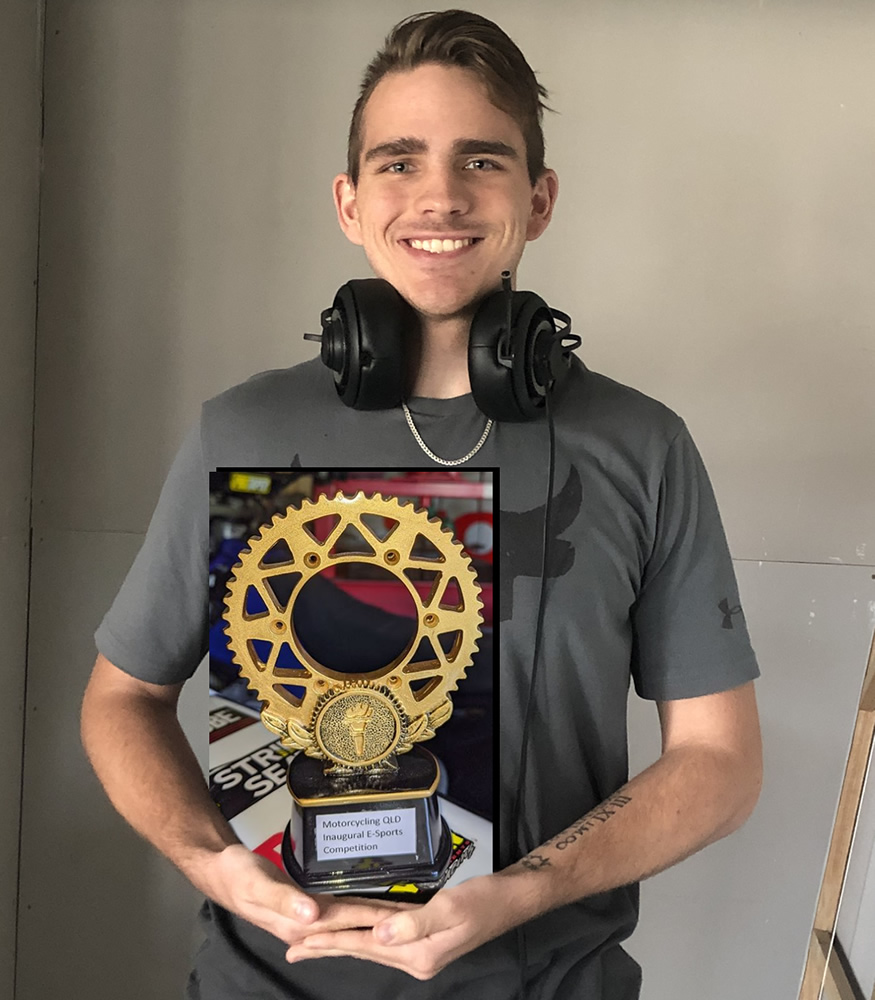 Well, the virtual dust has settled, the virtual trophy girls have gone home, and Brody Barton has come away with an incredible win in a tense opening stanza to the Inaugural MQ FB Page e-sport competition.
Brody Barton laid down a smoking 00:48.016 early on to remain clear of Shelby Thompson-Graham's 00:49.450, while Zane Dorrell virtually joined them on the virtual podium with a rapid 00:50.385.
"I'm so stoked to take this win," said Barton after climbing the virtual podium, lofting the virtual trophy and spraying the virtual champagne over virtually everyone, "and I'm delighted to have this trophy roughly photoshopped into my hands."
"I've been training hard in the house, so even though I suffered a lot of thumb pump on the Detroit circuit's long whoop section, somehow I pulled through to post the quickest lap. The hardest part of the track was rolling the wall jump perfectly to drive onto the quad triple; that's hard to get right!
"Our pre-season testing has had a few hiccups with the breaking of an unexpectedly high number of controllers," said the Construction Management student and Expert 450 class racer (back in the old world), "but on the night my Husky ran good straight out of the box. I chucked on some WP suspension and a Pro Circuit pipe and that was it.
"A shout out to my mates Jake and Shelby who thought they had me, and put in a couple of late nights, but they weren't able to break through."
We'd also like to give an honourable mention to Brayden Bradford, who came in with a time of 00:47.883 – sadly 3:54.000 hours after the cutoff. This was a stonking effort considering the virtual stadium lights were actually turned off at the time, and it truly shows the level of talent he'll bring to future rounds.
The track for round two of the series is Houston, starting five minutes ago, and closing on Tuesday the 21st at 11.59pm. MQ's Events Manager Simon has already stepped into his work thongs, and gone out to the shed to begin construction on the next trophy.
Houston. Ride safe everyone. No wait, you can't get hurt, just hit it pinned!