Following on from the announcement of sports supplement RecoveR8 as naming rights sponsor of the Australian International Six Days Enduro (ISDE) team for 2019, Motorcycling Australia (MA) is proud to announce a special offer for MA members and fans. Motorcyclists of all ages and disciplines in Australia can now enjoy the benefits of RecoveR8 for recovery after training or physical activity, at a special reduced price.

By entering the code "save$" into RecoveR8.com.au at checkout, MA members and fans will be eligible for a $10 discount on any purchase of Recover8 product, as a direct benefit to members thanks to this new partnership.
An all-natural sports supplement, RecoveR8 was developed to help athletes rejuvenate and recover during and after physical activity. Made in Sydney Australia, RecoverR8 supports healthy blood flow by strengthening the blood vessels, showing significant improvements in reducing pain, muscle fatigue and stress.
Recover8 brand ambassadors include Motocross riders Dean Ferris and Brett Metcalfe, and enduro star Daniel Milner, who all use RecoveR8 to help achieve their personal best.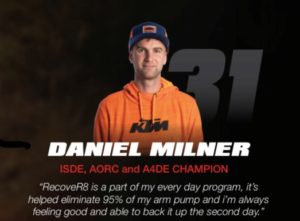 As a special offer for MA Members and fans, Recover8 are offering a $10 discount at checkout with the code save$. Learn more and purchase at RecoveR8.com.au